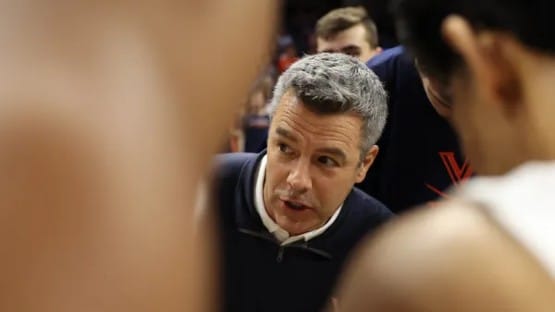 Random question. UVA football coaches always get crushed for not recruiting the state of Virginia. Never hear that about the hoops team. Other than Devon Hall and Mamadi Diakite, Tony Bennett has not gotten any studs from Virginia.
I personally don't care where the kids come from, and since Bennett has done so well, I am sure nobody cares. But I do find it strange that after 14 years of success, we do not get any kids from Virginia. There are plenty of good players in the state.
I think last year you could have made an ACC superteam out of kids from Virginia – Mark Williams, Armando Bacot, Jason Roche, Trevor Keels, and I know there was at least one other stud.  Just seems strange.
– Russell Marks, Concord, N.C.
---
I'm looking at the On3.com rankings for the past couple of years, and I see some guys, not a lot, but some – the top kid from Virginia from the Class of 2022, Chris Livingston, ended up at Kentucky, where he's averaging 5.8 points per game; and one guy I like, Judah Mintz, is averaging 15.6 points and 4.7 assists per game at Syracuse.
From previous classes, Keels and Williams, who both ended up at Duke, have already moved on to the next level – for Keels, the G League, for Williams, the NBA, with the Charlotte Hornets.
Bacot is another good example noted here, and he's still putting up good counting numbers at UNC.
Virginia offered all three, though notably, wasn't in on either Livingston or Mintz.
Without going into specifics on any of these cases, some of it, generally, I would assume, is admissions, i.e. the ability to get a kid enrolled, though in the case of the kids who end up at Duke, I don't know that would necessarily be the case.
But Virginia coaches, in all sports, know their limitations in terms of admissions, and know not to even spend time on kids who they can't get into school.
And then, another factor would be, fit, as determined by both sides. For example, if I'm Bacot, a back-to-the-basket 6'9" guy, I'm not sure I want to be setting screens, catching pocket passes and shooting mid-range jumpers at UVA, when I can play to my strengths at Carolina.
Editorial note here: maybe Bacot comes to Virginia and has to learn to play a different way, and that different way makes him more NBA-ready. News flash on that: there isn't a lot of interest from the NBA in 6'9" guys who have to play with their back to the basket.
Which is why he's still at UNC as a senior, and is a fringe prospect, at best, at the next level.
I don't know that basketball coaches view in-state recruits the same way football coaches do. Basketball coaches have 13 scholarships to give out, so each one is, doing the math, six and a fraction times more important than the ones given out in football (where the coaches have 85).
If in-state kids think they have better options at Duke or UNC, good for them.
We've had nine guys play in the NBA this year. And they can look up at our banners when they lose to us at JPJ.