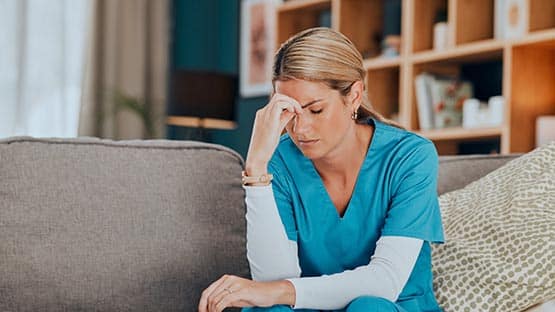 A series of videos will be released soon featuring the stories of hospital nurses from Central Virginia, Northern Virginia and Southwest Virginia, who have firsthand experience with workplace violence in clinical settings.
The raw, emotional stories shared in these videos are part of a growing problem as health care professionals face a heightened risk of workplace violence.
The videos are intended to educate the public about the growing prevalence of violence and how violence disrupts others getting access to timely care. The video series is being released as part of the Hospitals Against Violence initiative in the month of June.
"Visiting a hospital during a medical emergency can be a stressful time for patients and families. It is understandable if people in that situation feel nervous, anxious or worried. That's a natural human reaction," said VHHA President and CEO Sean T. Connaughton. "But in those circumstances, it is critical for people not to let those unsettling feelings override their better judgement by assaulting or threatening health care professionals who are just doing their jobs and trying to care for patients in need.
"Violence against health care professionals is a growing problem that disproportionately affects clinicians who face a higher risk of being assaulted in the workplace than workers in other professions," said Connaughton. "Committing or threatening violence against health care practitioners is against the law in Virginia.
"It also disrupts health care facility operations and can lead to delays in care for other patients with time-sensitive medical needs. These videos are being shared to remind people to treat clinical staff with respect. Doing so enables hospitals and health care staff to do their jobs and care for patients. The message from hospitals to the public is simple – 'Help Us, Help You' by behaving appropriately in health care settings."
June is also National Gun Violence Awareness Month.
Since 2019, hospital-based violence intervention programs operating at hospitals in Virginia have served nearly 5,200 patients impacted by community and intimate partner violence. The re-injury rate among those patients is just two percent, compared to a national re-injury rate of 40 percent for people impacted by community violence. These impressive results are helping improve lives and save money with more than $38 million in estimated health care costs avoided as a result of HVIP work.
"I've always said that there isn't a one-size fits all solution to combatting violent crime," said Virginia Attorney General Jason Miyares. "Real, sustainable results will come from increased communication between law enforcement, government officials, first responders, and community organizations. Virginia's Hospital-based Violence Intervention Programs are a critical component of our Operation Ceasefire strategy to reduce violent crime in our communities."
Situations involving unruly, disruptive, and violent patients or family members have become all too common in health care settings.
Data from the U.S. Bureau of Labor Statistics shows that of the nearly 21,000 private sector workers who "experienced trauma from nonfatal workplace violence in 2019," 70 percent worked in the health care and social assistance sector. BLS data also shows that the incidence rate of violence against health care workers has been on the rise since 2011.
And those numbers may not reflect the true scope of the issue, with the U.S. Occupational Health and Safety Administration noting that while health care "accounts for nearly as many serious violent injuries as all other industries combined … many more assaults or threats go unreported."
Survey findings
Other research affirms the prevalence of workplace violence against health care professionals.
The American College of Emergency Physicians and the Emergency Nurses Association indicate that almost half of emergency physicians report being physically assaulted at work, while about 70 percent of emergency nurses report being hit and kicked on the job.
A 2021 study published in the Annals of Emergency Medicine found that "78 percent of all health care workers experienced a violent assault in the prior 12 months, including more than one in five (22 percent) emergency physician residents. Eighty-nine percent of residents experienced verbal assault by a patient in the prior 12 months, compared to 80 percent of other health care workers."
A  2022 survey conducted by Incredible Health found that 65 percent of "nurses surveyed reported that they had been verbally or physically assaulted by a patient or a patient's family member within the last year."
Laws in Virginia
To address these conditions, Virginia hospitals, nurses, and other health care partners successfully worked with the Virginia General Assembly in 2019 to strengthen protections for health care workers performing their job  by making it a class 1 misdemeanor to threaten to kill or harm them while they are rendering care in a hospital, emergency department, or other clinical facility.
That law has been updated since then, most recently earlier this year to extend protections to providers rendering care in all health care settings .
Updates to the law take effect July 1.
VHAA Workplace Safety Task Force
In March 2020, VHHA launched a Workplace Safety Task Force charged with determining a baseline measurement for statewide employee injuries, identifying and monitoring potential opportunities for improvement and establishing best-practice recommendations.
The ongoing task force work includes a dedicated subgroup focused on workplace violence.
In recognition of National Workplace Violence Awareness Month, VHHA in April 2022 shared with its members a Workplace Violence Prevention Toolkit with information about applicable state laws, background information on the topic, and detailed guidelines to support organizations in developing, implementing, evaluating, and sustaining workplace violence prevention programs.