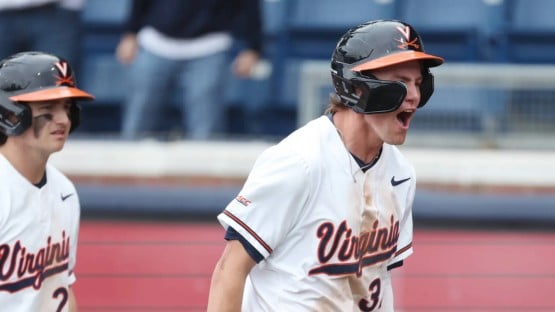 Virginia landed four players on the 2023 All-ACC first team, including ACC Player of the Year Kyle Teel.
Virginia Tech had one first-team selection, slugging outfielder Jack Hurley.
Teel, a catcher rated as the #15 prospect in the Class of 2024 by Baseball America, is leading the ACC in batting average (.414) and total hits (91). His 23 doubles tie for both the ACC lead and the Virginia single-season record.
Teel, who has started every game this season, has 11 homers with 58 RBI (seventh among ACC players), and his .480 on-base percentage ranks fifth in the conference.
Teel is a semifinalist for the Dick Howser Trophy awarded to college baseball's top player and on the Buster Posey Award Watch List, which goes to the top catcher in the country.
Joining Teel on the All-ACC first team UVA third baseman Jake Gelof, outfielder Ethan O'Donnell and shortstop Griff O'Ferrall.
Gelof, the #41 prospect in the Class of 2024, earned a first-team nod for the second straight season. Gelof is hitting .340 with 20 doubles, three triples, 22 homers and an ACC-leading 84 RBI.
O'Donnell, a Northwestern transfer, is hitting .364 with 16 doubles, a triple, 11 homers and 46 RBI, and 16 steals.
O'Donnell ranks seventh in the league in runs scored (62) and eighth in total hits (79), and defensively has a team-best five outfield assists.
O'Ferrall has established himself as one of the best hitters in the league. The second-year is hitting .404 with 68 runs scored, 16 doubles and 34 RBI, and 16 steals.
O'Ferrall is one of 25 semifinalists for the Brooks Wallace Award, annually bestowed on the nation's top SS. He is hitting .398 in ACC games, the second highest average of anyone in the league, and has scored 36 runs in ACC play, the most of anyone in the ACC.
Three UVA players earned third-team All-ACC honors – first baseman Ethan Anderson and pitchers Connelly Early and Brian Edgington.
Anderson has started all 55 regular season games at first base as a sophomore and has put together 25 multiple-hit games, third-most on team. He co-leads the ACC and ranks ninth in the country with 23 doubles which is also tied for a single-season school record.
Anderson ranks in the top-10 in the ACC in hits (fifth – 83) batting avg (eighth -.372) total bases (eighth – 133) and RBI (10th – 54).
Early has a 10-1 record on the mound with the fifth-lowest ERA (3.18) in the ACC over 65 innings pitched. He has struck out a staff-best 79 batters and walked only 15. The 10-win season is only the 12th in UVA history, and Early was one of two ACC pitchers to reach the double-digit win mark in 2023.
Early ranked in the top-10 in the ACC in strikeout-to-walk ratio (fourth – 5.20), WHIP (fourth – 1.11), walks allowed per nine innings (fifth -2.08) and strikeouts per nine innings (seventh – 10.80).
Edgington is 7-3 with a 3.66 ERA over 71.1 innings pitched as a weekend starter for the Cavaliers. He has struck out 77 batters while walking only 18, the seventh-best strikeout-to-walk ration in the league (4.28).
Edgington, a transfer from Elon, has produced five quality starts, four of them against ACC opponents. He was named ACC Pitcher of the Week on May 15 after he pitched six scoreless innings and struck out eight to help UVA complete an ACC series sweep of Louisville.
Down at Virginia Tech, Hurley is hitting .327, slugging .737 and has a 1.157 OPS during his 43 regular-season appearances, finishing with 15 doubles, two triples, 17 home runs and 48 RBIs.
Hokies sophomore Carson DeMartini was awarded the designated hitter/utility position on the All-ACC Third Team. Rookie sluggers Brody Donay and Garrett Michel also represented the Hokies on the ACC All-Freshman Team for their respective performances at catcher and first base.
DeMartini  started all but one of Tech's 51 regular season contests, steadying his .326 batting average with his team-best .460 on-base percentage. As the Hokies' primary cleanup hitter, DeMartini has stroked 13 doubles, three triples and 10 home runs while leading the Blacksburg bats in both runs scored (56) and RBIs (54).
Donay has homered 12 times as a rookie, ranking seventh in conference-only slugging percentage (.662) while accounting for 32 runs, 32 hits, four doubles and 38 RBIs overall.
Michel nearly paced the Hokies in batting average during his first season in Blacksburg, wrapping up the regular season with the team's third-highest mark at .335.
Michel leads the Hokies in doubles (16) while tallying 11 home runs, 48 runs and 45 RBIs, crafting a .459 on-base percentage and a 1.093 OPS across his 49 starts.