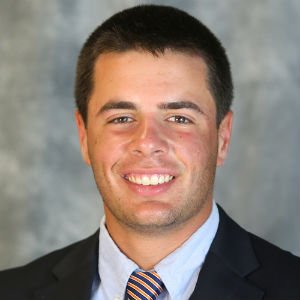 For the first time during five rounds of match play, Virginia junior golfer Derek Bard (New Hartford, N.Y.) did not have to come from behind to earn a win at the U.S. Amateur Championships. He defeated Kenta Konishi of Japan 3&2 in Saturday's semifinal round to advance to Sunday's championship match at Olympia Fields Country Club.
By virtue of reaching the finals, Bard will be eligible to receive an invitation to the 2016 Masters Tournament.
Sunday Bard will face 2015 NCAA Champion Bryson DeChambeau, a rising junior at SMU.
Bard took the early lead with a birdie on the par-5 opening hole. He increased his lead to 2-up on the sixth hole but saw the match draw back to all-square when Konishi won three of the next five holes.
"I've trailed in every match leading up to this until this one, so that was the goal coming in, to get off to a little better start," Bard said. "I birdied one which was great and kind of rode in from there."
With the match even after 11 holes, Bard won three of the next four holes to go 3 up. When both players made par on No. 16 he clinched the win.
"One of the key points of the match definitely was on No. 12," Bard said. "He got it back to all-square. On 12, we both missed the fairway. He was in the right side and plugged it in the lip of the bunker. I had a tough shot. I just had to get up there on the green. I hit a great shot in there, about 15 feet pin-high and forced him to get up-and-down from an impossible spot. He made bogey and I two-putted and from there, I kind of rolled in."
DeChambeau defeated USC freshman Sean Crocker 4&3 in the other semifinal match. DeChambeau entered the tournament as the number-seven ranked amateur player in the world.
Despite beating the world's top-ranked amateur, Jon Rahm, in the semifinals, Bard says he will be the underdogon Sunday.
"I'm going to have to play my best golf to have a chance tomorrow, because he's been playing very solid leading up to this point, and I'm just going to have to have one of those days where everything falls the right way from here," Bard said.
Earning the opportunity to play at the 2016 Masters is something Bard said he will wait to celebrate.
"It's been my dream as a little kid playing golf to play in the Masters and be a professional player," he said. "I didn't think I would be playing the Masters when I'm 20 years old. It's definitely come a little earlier than I thought it would, if it ever did.
"But yeah, there's no problem with that. I can't wait. It hasn't sunk in yet. It's all been kind of dreamlike for me here but I'm sure once I look back and reflect on all this, I'll realize that I'll be teeing it up with the best names in golf I guess in April."
Sunday he will have the opportunity to add his own name to that list. The final match starts at 8:30 a.m. EDT.Fox will televise the finals of the tournament from 3 p.m. to 6 p.m. Sunday.