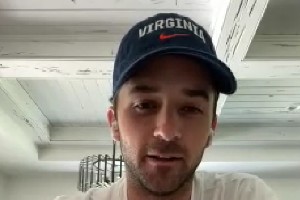 Denny McCarthy, currently 39th in the FedEx Cup standings, 88th in the Official World Golf Ranking, one spot ahead of Phil Mickelson, might project as a target for the LIV Golf Series, which is throwing gobs of Saudi oil money at its sportswashing effort.
The UVA golf alum has no interest in LIV's money.
"I'm a very competitive person, and I haven't quite done what I want to do on the PGA Tour yet," McCarthy said in an interview with "The Jerry Ratcliffe Show" on Tuesday. "I really want to win, and I know that's coming soon. And I like playing against the best players in the world, and I believe I'm becoming one of those, and, you know, I look forward to playing with these guys every week. I'm excited for where the Tour is going. I think they're doing all the right things to kind of make sure the Tour is safe."
McCarthy, a 2015 University of Virginia alum, is coming off the best month of his PGA Tour career, with top 10s at The Memorial, the U.S. Open and last week's John Deere Classic putting him in position to compete at The Tour Championship in Atlanta next month.
The LIV Golf Series has been poaching some of the Tour's top names, most notably getting the likes of Phil Mickelson, Sergio Garcia, Dustin Johnson and Brooks Koepka to sign on.
The PGA Tour has responded by banning those who tee it up at a LIV event, and then by announcing changes to its schedule and increasing purses at eight tournaments.
The changes have taken down the temperature of the controversy in the clubhouse, according to McCarthy.
"I don't think you'll see too many more top guys leave," McCarthy said. "I think most top guys want to stay in play on the PGA Tour, because they believe it's the most competitive, and that's what they want. Most of these guys already have enough money to live off of. They don't they don't need the money that the LIV tour is throwing at them, so I think you're seeing most guys choose the competition aspect over the money aspect, which I'm all for."
McCarthy doesn't have a problem with the defectors being eligible to play in majors going forward, but points out that the issue may be moot, given that LIV Golf Series events don't count toward the Official World Golf Ranking.
"They're 54-hole events, and they don't have any world ranking points, so those guys need to qualify for the majors. If Brooks Koepka somehow isn't getting the world ranking points in the next year, he might not be able to qualify," McCarthy said.
"I'd be fine with them playing in the majors, I just don't think they should be allowed to come back to play on the PGA Tour," McCarthy said. "They made that choice, that they wanted to play less golf, so why would they want to play two tours anyway? They're there, they're doing their thing over there, and I'm fine with that. That's their decision. So, they can play on that tour. I don't mind if they play in the majors, but I don't think they should be allowed to play on the Tour if they choose to go play that tour."