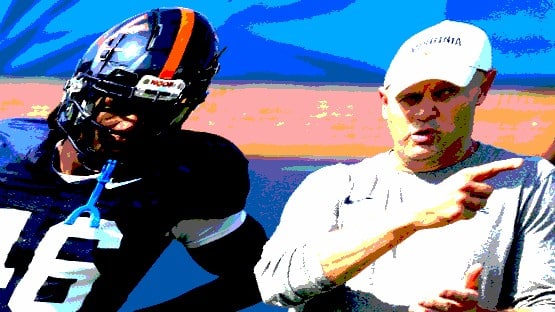 A Tennessee Vols blogger thinks UVA defensive coordinator John Rudzinski is making a "big mistake" not making his entire training camp about UT.
"One of the toughest things about preparing for the Tennessee Vols' potent up-tempo offense is that teams only get a week to prepare for UT's unique style," blogger Zach Ragan wrote on Friday. "Tennessee's first opponent this season, the Virginia Cavaliers, are the one team on UT's schedule in 2023 that can dedicate a couple of weeks to preparing for the Vols.
"Virginia, however, doesn't appear interested in using the extra time to their advantage – which could obviously be a big mistake."
Ragan was referencing a comment from Rudzinski after UVA's practice on Thursday. Asked by a reporter if he was worried about being able to keep up with UT's "1,000 miles an hour" offense, Coach Rud shrugged the question off.
"Tempo is something that, you know, the way Coach Elliott has the, you know, practices designed, we go super-fast," Rudzinski said. "Tempo is something that we've got to do a great job as a defense throughout the year of controlling, you know, be it, you know, an opponent, or in two-minute situations. That's something that we work throughout the year.
"I'd say what, you know, our offense stresses us with that. We practice fast, and, you know, we practice, you know, so fast, where we get a lot of that conditioning in," Rudzinski said. "You know, we're still not quite there yet, you know. We'll be ready for Week 1, we hope, but we'll continue to push that way."
Seems like an inoffensive answer there from Coach Rud.
Not so, per Ragan.
"I'm not sure what Virginia is expecting in Nashville on September 2 when they kick the season off against Tennessee, but if they think practicing against their own base offense is going to have the Cavaliers prepared to face the best offense in the nation, then the season-opener might have an even more lopsided outcome then folks are expecting (UT is a 28 point favorite)," the blogger wrote.
In defense of Rudzinski, and this one's easy – you can't make your entire camp about one opponent.
Camp is about getting your two-deep set, get everybody the reps they need, and then the last week is about Week 1 prep.
The big mistake would be making any one game on a 12-game schedule bigger than it is.