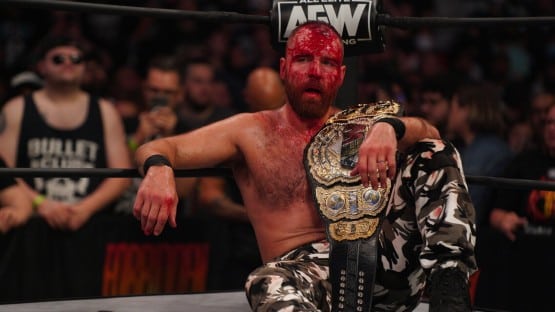 Jon Moxley got a lot of credit for helping AEW get through its injury crisis last summer. Not that he deserved it, given what was going through his mind as he did Tony Khan a solid.
Khan put the AEW interim title on Moxley after CM Punk, who had won the world title at the "Double or Nothing" pay-per-view in May, broke his foot before a match on "Dynamite" three days later.
Bad move to go to Moxley there, as it turns out.
"From my point of view, the entire summer, I wasn't under contract. No contract. Free agent. I was at SummerSlam weekend wrestling fucking Desperado and shit the day of SummerSlam, fucking suplexed him on a bunch of aluminum cans and shit cut in half, it was fucking dope. I could've walked into SummerSlam that night with the AEW fucking belt, if I had been so inclined. Nobody knew that because I don't put my shit out there in the world," Moxley said on the March 28 episode of his wife Renee Paquette's podcast.
So, you have Mox seeming to say there that he was so pissed off about whatever pissed him off that day that he was thinking of trying to walk onto WWE TV with the AEW belt, because you can't take what he offered there any other way.
Remember, this is a guy who wants you to believe that he was doing Khan a big favor here.
Mox then refused to drop the belt back to Punk at the AEW "All In" pay-per-view when it came time to reunify the titles unless Punk first lost a match to him.
That explains the otherwise inexplicable squash match loss for Punk to Moxley on "Dynamite" 10 days before "All Out," which Moxley explained away as setting up a "Rocky III" scenario in which Punk could exact his revenge for being squashed.
Except that it just also made no sense to have a match between the two on free TV just days ahead of a big pay-per-view main-event match, and even less sense that the outcome between the main-event competitors would be a squash.
So much for Moxley getting a job as a booker when he's done blading himself and dropping f-bombs and flashing one-finger salutes at fans weekly on national TV.
Moxley's defense of his "job face" going into "All Out" puts the lie to all the praise he received for working an extra couple of months as world champ.
"Now keep in mind at this time, this is my whole point, I basically don't work there, for all intents and purposes," Moxley said. "I don't even work here. Tony is not my boss. I don't even have to be in this room. I don't have to do shit. So even me being in this room and offering it and agreeing to a storyline that puts you over at the pay-per-view, if anything, I'm bending over backwards for Tony and for this dude, and for the company and everybody, because I didn't have to, I didn't have to do shit. If anything, I was bending over backwards."
And then, as things worked out, Punk suffered a torn triceps in the title win, ahead of going on a tirade aimed at AEW executive vice presidents Kenny Omega, Matt Jackson and Nick Jackson at the post-event media scrum.
This, in turn, precipitated the infamous "Brawl Out" in Punk's dressing room that led to suspensions for Omega and the Jacksons, and an extended absence for Punk, who is now apparently medically cleared for a return.
Khan, his hand forced again, went back to Moxley to be the world champ after the second Punk injury, and in October announced that Mox had been signed to a five-year contract extension, so at least Moxley wouldn't be able to just up and take the AEW belt with him on WWE TV without having to suffer some financial repercussions.
A month later, MJF defeated Mox, working this time without "job face," for the AEW belt at the "Full Gear" pay-per-view.
Punk, in the here and now, is set for a return this summer, in spite of the efforts of Omega, the Jacksons, Chris Jericho, and now Moxley, to force Khan into cutting bait with Punk, who remains the company's most identifiable star and easily the top draw.
It's still possible that the public back-and-forth between the principals is the most elaborate work in pro wrestling history, that Khan and his top stars are actually being very disciplined in bringing to life what seems like real-life nuclear heat on each other with the goal of a huge WCW/nWo in the late 1990s payday for all involved.
The newfound involvement in this story of Moxley, who doesn't come across as having any level of discipline about anything, makes it hard to buy that idea now.
It seems likely that Khan will be able to turn the actual heat between those involved into good money, but it's just as likely that one of these doofuses – we're all looking at you, Mox – will go into business for himself and drop one of the other guys on their head, and that AEW ends up going the way of the dinosaurs in a flurry of lawsuits and countersuits.
Now you know why I got out of the wrestling business.