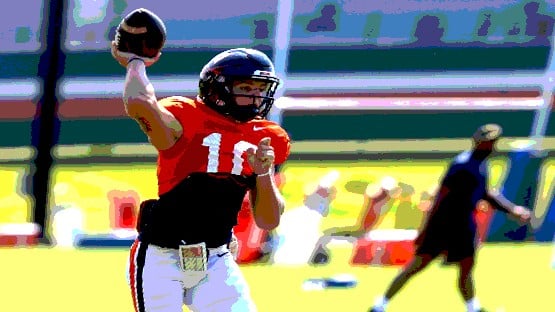 Freshman Anthony Colandrea is "pushing" presumptive QB1 Tony Muskett in training camp, UVA football coach Tony Elliott told reporters after practice on Monday.
Um, OK, so, is this Elliott revisiting his thinking on Muskett being his QB1?
No.
Elliott was addressing his biggest take from the team's scrimmage on Saturday, and he didn't hesitate to make the answer about Colandrea, a three-star from Florida who looked solid in Virginia's spring game, completing 18 of his 29 pass attempts for 218 yards, a TD and an INT.
"I was anxious to see what it was going to look like, because overall here on the practice field, obviously, you know, Tony was putting a little bit of separation. And then we put the ball down live, and you saw Colandrea, you know, be Colandrea. So, that was really good. We were able to have some explosive plays," Elliott said.
It's not surprising to hear Elliott talk up Colandrea in the context of what the kid can do on the big stage.
He outperformed Muskett, a three-year starter at Monmouth, a mid-tier FCS school, in the spring game, showing a greater willingness than Muskett to attack downfield, looking, honestly, more like the veteran than the veteran.
This isn't to say that Elliott is going back on his plan to go with Muskett as the starter for the opener in Nashville against #10 Tennessee on Sept. 2.
It's going to be a big enough challenge for Muskett, who is having to make the transition from FCS; you can't imagine Elliott wants to throw a true freshman who was playing high school games on Friday nights this time last year into the fire against a team with national championship aspirations.
The use of the word "pushing," you can figure, is Elliott using the news media to send a message to Muskett.
You know, maybe Muskett is going through a rough patch in practice; that's all I'm reading into it right now.
That said …
Our colleague, Jerry Ratcliffe, hit Elliott with a follow-up on Colandrea toward the end of the post-practice presser, and TE went all-in with praise for the young guy that he decided after seeing him on tape was a good fit for his system.
"He doesn't quite have the 6'3" frame, but he's got the mind, he's got the arm strength, and he's got the moxie of any of the of the top quarterbacks in the country," Elliott said. "So, I think that's what you saw, you know, and he had some opportunities mid-major. But when we had a chance to watch him spin the ball and throw it, it was like, Hey, we're not going to be nitpicky over an inch or two, right. This was a really, really good quarterback."
I've been saying for a while, this Colandrea kid is the quarterback of the future at UVA.
(Yes, technically, Sept. 2 is the future.)