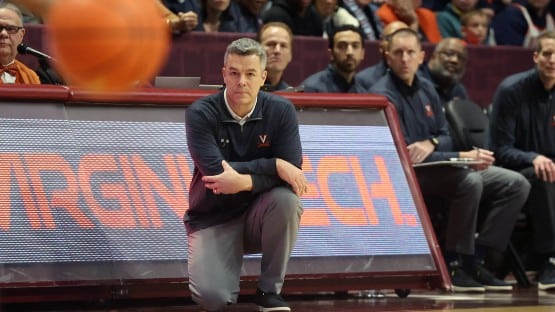 Tony Bennett and the UVA basketball staff landed two four-stars in the prep Class of 2023, then went out and landed three more four-stars in the transfer silly season.
This is good news if you're a Virginia hoops fan, but it should come with some sort of asterisk.
Recruiting was already a 365-day-a-year job before coaches had to add recruiting from other college rosters to their list of duties.
The AAU-ization of basketball had already taken over the preps and the NBA.
And now it's here to stay in the NCAA.
God save us all.
But anyway, back to the good news part of this: Bennett landing the three additional four-stars.
247Sports ranked Virginia's transfer class 16th nationally, on the strength of the pick-ups of Merrimack power forward Jordan Minor, St. Mary's point guard Andrew Rohde, Georgetown point guard Dante Harris and Oklahoma 3-and-D wing Jake Groves.
Minor and Rohde are four-stars as transfers, per 247Sports.
On3 lists Harris as a four-star transfer as well, so there's the third one.
These guys come in along with combo guard Elijah Gertrude, who On3 has as the 38th-best player in the Class of 2023, and Blake Buchanan, who ESPN has at #65 in the 2023 class.
Bennett also landed depth in the frontcourt last week in the form of 6'10" center Anthony Robinson, a three-star prep recruit.
If you're thinking that's a lot of new guys, yeah, that's a lot of new guys.
The advantage that Bennett has had in his tenure at Virginia, after the first couple of years, when he was still setting his roots down, has been relatively low roster turnover.
The old school way of doing things allowed players time to get acclimated with Bennett's detailed offensive and defensive schemes.
That build slowly approach is almost entirely a thing of the past, basically going out of style after the 2019-2020 COVID season.
Bennett has done well in picking up talented transfers – think: Anthony Gill, Sam Hauser, Trey Murphy III, Jayden Gardner, Armaan Franklin, Ben Vander Plas, and now this year's haul.
And the 2020-2021 and 2022-2023 teams did each win a share of the ACC regular-season title, which we forget because of the first-round NCAA Tournament exits.
I don't know that Tony Bennett is wired to be able to compete year in, year out in this new AAU environment.
Credit, though, to him and the staff for doing what they needed to do, again, this year.