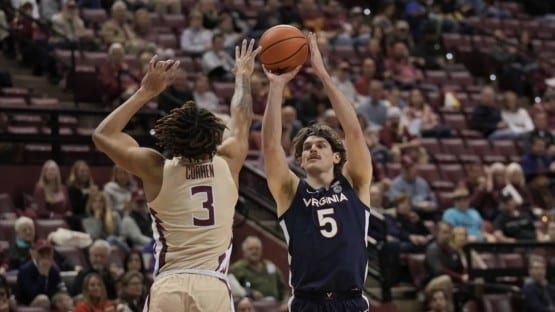 Tony Bennett keeps recruiting big bigs, but when you look back over his years at Virginia, his best teams have been at their best playing small ball, which has had me wondering for a while why he keeps recruiting the big bigs.
The 2018-2019 national champs, for instance, were at their best with 6'9" Mamadi Diakite at center, surrounded by four guards – Ty Jerome, Kihei Clark, Kyle Guy and De'Andre Hunter – with another big guard, Braxton Key, as the sixth man.
The 2015-2016 Elite Eight team was London Perrantes, Malcolm Brogdon and Devon Hall at guard, Isaiah Wilkins, at 6'7", at power forward, and Anthony Gill, at 6'8", at center, with seven-footer Mike Tobey as the sixth man.
Those were also Bennett's two best offensive teams, both ranking in the Top 10 nationally in adjusted offensive efficiency, according to KenPom.com.
It's part of the Virginia basketball canon that you win with defense, and those two teams were also Top 10 nationally in adjusted defensive efficiency, but Bennett had other Top 10 defensive teams that didn't reach the heights of the 2015-2016 and 2018-2019 teams.
The 2022-2023 team wasn't elite on either side of the floor, ranking 72nd on offense and 24th on defense, but there were two defined spurts where the offense approached the heights of the great offensive teams of Virginia recent past – a six-game stretch in November that included wins over Baylor, Illinois and Michigan, in which Virginia ranked fourth nationally in offensive efficiency, and a five-game stretch in January, all wins in ACC play, in which Virginia led the nation in offensive efficiency.
The two stretches involved very different Virginia lineups – the one in November with 6'11" center Kadin Shedrick, a traditional rim protector at the five, the one in January with Ben Vander Plas, a 6'8" perimeter threat at the five.
Both lineups had the highs that were mentioned, and then had low lows, which is how a team that ranked in the top five nationally for a third of the season ended up ranking 72nd for the season as a whole.
I think we can see from how Bennett stuck longer with Vander Plas through the low lows of the BVP-at-five stretch where the coach's head and heart are.
It's certainly where the game of basketball is in 2023. Few teams feed the ball to a back-to-the-basket big to get points in the post, and those that favor that approach – think: Purdue – have proven to be susceptible in the one-and-done NCAA Tournament scenario.
It's not been that long since the idea of using a stretch four was revolutionary. I remember writing about tough stretch-four matchups for Gill when he was patrolling the lane at Virginia.
Now Gill is an NBA veteran who himself has adapted into a stretch four, and stretch fives like Karl-Anthony Towns and Joel Embiid are redefining how the five position is played.
The news on Monday, that Bennett is losing two of his bigs – Shedrick and Isaac Traudt, who redshirted this season as a freshman – to the transfer portal has been met with wailing and gnashing of the teeth from the fan base.
Shedrick worked in the spring and summer ahead of the 2022-2023 season to improve his perimeter shooting, but he ended up only attempting five threes this past season, with 80.6 percent of his shot attempts coming at the rim, according to SynergySports data.
Traudt, a four-star recruit from the Class of 2022, is, according to the scouting reports, a guy who can be a threat from the perimeter, but it's probably worth noting that he didn't do enough in practice to get Bennett to revisit the decision made back in November to go with a redshirt year for Traudt.
Bennett and his staff have been busy since the end of the regular season two weeks ago reaching out to bigs in the transfer portal who have a demonstrated ability to stretch defenses with three-point shooting, which could get you to think that they either saw today's news with Shedrick and Traudt hitting the portal coming, or …
Maybe the Shedrick and Traudt moves were mutual decisions.
I'm thinking Virginia, next year, will look more like the 2015-2016 and 2018-2019 teams, with more four-guard lineups around either an athletic defender like Ryan Dunn, channeling his inner Mamadi Diakite, at the five spot, or an improved version of Vander Plas as a straight-up floor spacer at the five.
One lineup that could work there would be Reece Beekman and Dante Harris, the Georgetown transfer, as two starting point guards, with Armaan Franklin and Isaac McKneely at the bigger guard spots, and then a floor-spacer from the transfer portal at the five, with Dunn and Blake Buchanan, a 6'9" four-star recruit in the Class of 2023, battling to be the Braxton Key at sixth man.
Your eight-man rotation, then, gets minutes from Leon Bond, a four-star in the Class of 2022 who redshirted this season, and another four-star in the Class of 2023, Elijah Gertrude, to get minutes off the bench at guard.
This would be an athletic-as-hell group that would pressure teams on both ends of the floor.
And it would remind me more of Bennett's 2018-2019 and 2015-2016 teams than any we've seen in recent years.