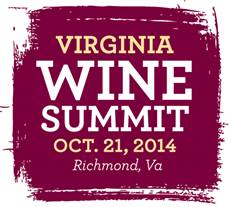 Governor Terry McAuliffe today announced that the third annual Virginia Wine Summit will be held in Richmond on Oct. 21, 2014.  The event will bring wine experts and industry leaders from around the country to discuss, taste, and celebrate the exciting state of Virginia's wine and food culture.  Panels, tastings, and discussions will be held throughout this day-long event, featuring an address by keynote speaker Ray Isle, the Executive Wine Editor of Food & Wine.
Commenting on the 2014 Virginia Wine Summit, Governor McAuliffe said, "The Virginia wine industry continues to grow in both size and reputation and I'm proud to support our wineries, winemakers, and grape growers here and abroad.  That's why I'm pleased to have Ray Isle of Food & Wine visit our great Commonwealth and serve as the keynote speaker for our third annual Virginia Wine Summit, which plays an important role in highlighting Virginia wines and wine tourism as key components of my economic development and jobs creation agenda."
Isle will be joined by some of the nation's foremost and influential wine professionals, including:  Dave McIntyre, wine writer at The Washington Post; Andrew Hoover, contributor to Wine Enthusiast; Andy Chabot, sommelier and director of food and beverage at Blackberry Farm (Walland, TN); John T. Edge, author and director of the Southern Foodways Alliance (Oxford, MS);  Anthony Giglio, wine personality, author and writer (New York, NY); Patrick Cappiello, partner and wine director at Pearl & Ash (New York, NY); Neal Wavra, sommelier at Riverstead and co-founder of FABLE Hospitality (Washington, D.C.); Luca Paschina, winemaker and general manager of Barboursville Vineyards (Barboursville, VA); Lee Gregory, chef and co-owner of The Roosevelt (Richmond, VA); Linda Murphy, wine writer and author; Jay Youmans, MW; Bartholomew Broadbent, wine distributor; Kathy Morgan, MS; Todd Thrasher, bartender and partner at Eat Good Food Group (Washington, D.C.); Andy Myer, ms and wine director for Jose Andres' Think Food Group (Washington, D.C.); Hristo Zisovski, chief sommelier at Ai Flori and Alta Marea Group (New York, NY); and Jordan Salcito, beverage director of Momofuku (New York, NY).  Other wine and culinary leaders will be added in the coming months.  These experts will inform an audience filled with restaurateurs, sommeliers, media, wine-shop owners, winemakers, and other industry professionals.
"The Virginia wine industry just completed its most successful year and Governor McAuliffe has made a commitment to build on that success in 2014 and beyond," said Todd Haymore, Secretary of Agriculture and Forestry.  "The Virginia Wine Summit is a important event in the Governor's efforts as we bring together a wide variety of wine industry opinion leaders to talk about Virginia as an emerging and internationally recognized wine region."
Governor McAuliffe is making the continued growth and success of the Virginia wine industry a priority in his administration.  In addition to hosting the Virginia Wine Summit, the McAuliffe administration serves and promotes Virginia wines at the Executive Mansion and throughout Virginia, on domestic business recruitment visits, and on international trade and marketing missions around the world, including the recently completed mission to China and the United Kingdom.
The past few years have been an exciting time for Virginia wines.  With a record-breaking number of cases sold and export sales reaching an all-time high in 2013, Virginia is establishing a solid record for the types of high quality wine the East Coast can produce.  The climate and soil of Virginia places its wines stylistically between the West Coast wine region and European neighbors to the East.  Wines tend to be fruit forward like West Coast wines, but also embody higher acidity and balance, similar to European wines.
Virginia Wine Summit attendees will enjoy a lunch celebrating the food and wine of Virginia, courtesy of Chef Jeremiah Langhorne, formerly of McCrady's in Charleston, South Carolina, now gearing up to open his own highly anticipated restaurant in Washington, D.C., as well as panel discussions throughout the day.  Panel topics include:
·       "Somm Might Say," where a distinguished group of sommeliers will participate in an interactive discussion and showdown of wine and food pairings;
·       "True to Our Roots, Virginia Terroir" will examine how Virginia terroir is defining the state's wines followed by a presentation of wines by leading vintners;
·       "The Art of the Blend," a blind tasting comparison of Virginia Bordeaux and Meritage style blends against others from around the world;
·       "Meet Virginia Whites," an intimate tasting of compelling Virginia white wines where the winemakers themselves will discuss the story behind each selection and how they embody Virginia;
·       "Dark Horses," a tasting of eclectic varieties produced in Virginia today such as Petit Manseng, Tannat, and Albariño;
·       "It's All Relative," a discussion and blind tasting to discover what defines a wine's value, quality, and worth;
·       "How Sweet It Is," a tasting of Virginia dessert wines paired with cheeses from the region.
The Virginia Wine Summit will be held on October 21 at The Jefferson Hotel in Richmond.  Tickets to the day-long event, priced at $199, are open to the public and include entry to the post-summit reception, where guests can end the day with a selection of sparkling Virginia wines.  To register for the event and for more information, please visitwww.virginiawinesummit.com.   Additional speakers and more information will continue to be announced on the site in the coming weeks.
Virginia is home to more than 250 wineries and is fifth in the nation for wine grape production.  A 2012 economic impact study shows that Virginia's wine industry contributes almost three-quarters of a billion dollars – or $747 million – annually to Virginia's economy.  Virginia wineries and vineyards support 4,800 jobs that provide $156 million total in wages.
Wine travel in Virginia has gained many recent accolades, including being named one of the ten best wine travel destinations in the world for 2012 by Wine Enthusiast Magazine.  In 2010, approximately 1.6 million people visited Virginia wineries.  Tourism is an instant revenue generator for Virginia.  In 2010, tourism generated $19 billion in revenue, supported 204,000 jobs and provided $1.2 billion in state and local taxes.
For more information about the Virginia wine industry, please visit the Virginia Wine Marketing Office's website atwww.virginiawine.org or call 804-344-8200.