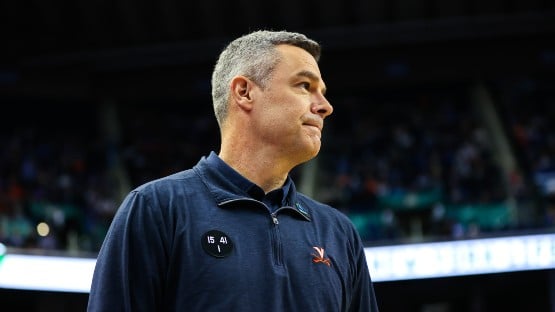 The narrative about Virginia and Tony Bennett: the slow pace that Bennett prefers makes Virginia more vulnerable to upsets.
Let's examine, using our friend, simple math.
Virginia, according to KenPom.com, averaged 61.6 possessions per game in 2022-2023, the fourth-fewest in D1.
The D1 average this season, per KenPom: 67.3 possessions per game.
Virginia, and its opponents, thus averaged 5.7 fewer possessions per game.
From KenPom, Virginia was .162 points per possession better than its opponents this season.
Let's multiply .162 and 5.7.
What do we get? .9234 points per game.
That's what Virginia costs itself by playing slower.
The lower margin of error for Virginia that we keep hearing about is literally less than a point per game.
Virginia's average margin this season was +7.3 points per game, which tied with Miami for second in the ACC – Duke's average margin was +9.0.
Duke's average pace: 65.1 possessions per game.
Duke ranked 295th in D1, down there closer to Virginia than you'd think, given the lack of columns about how slow Jon Scheyer has his team playing.
The #1 overall seed this year is Alabama, which plays fast – 72.7 possessions per game.
Their faster pace, times their edge per possession over opponents, translates to an additional 1.43 points in margin per game.
About a point and a half.
That's all.
The #2 overall seed: Houston.
Houston's pace: 63.5 possessions per game.
Down there with Virginia.
Kelvin Sampson better be prepared for some hatin' when his team gets knocked out.
He's slow-w-w-w-w.
Seriously, the issue for this year's Virginia team wasn't pace. It was offense.
There was a time back in November, when the team was fully healthy, and coincidentally, peaked in the national polls, where the Cavaliers ranked in the Top 5 nationally in adjusted offensive efficiency.
Where they started, where they finished: from Top 5, Virginia ended up 73rd nationally, from KenPom.
It's not an excuse, but a reason: Reece Beekman, the NBA talent in the backcourt on the team, played most of the season with ankle and hamstring injuries, then Bennett found a new gear with the insertion of Ben Vander Plas, a stretch four, as his starting center, but BVP ended up limited by a bad back, then was sent to the sidelines with a broken right hand.
It happens in sports, which isn't a video game, where everybody is at full strength for every game.
Doesn't explain Purdue, which just got bounced by Farleigh Dickinson, the third straight season Purdue has been knocked out by a double-digit seed – in succession, a #13, a #15, and a #16.
Maybe Purdue needs to play faster so that it won't be so vulnerable to upsets.
Purdue's average tempo this year: 64.3 possessions per game.
The 5-of-26 shooting from three had nothing to do with it.
It was pace.