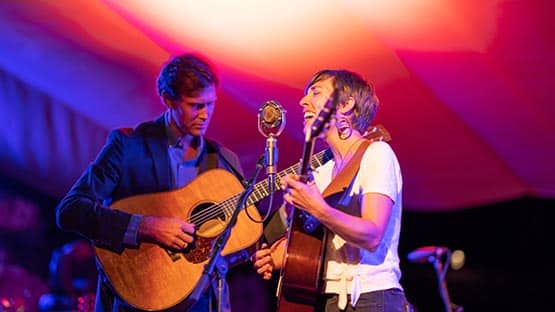 Court Square Theater welcomes The Honey Dewdrops to its stage on Friday, March 10, at 7:30 pm. Part of CST's Living Room Concert Series, this part concert, part live interview event is hosted by Trent Wagler, The Steel Wheels front man.
Virginia-raised, Maryland-based Laura Wortman and Kagey Parrish of The Honey Dewdrops began touring in 2009 and have called Baltimore home since 2014. With several albums and 13 years on the road, Wortman and Parrish continue to expand their experimental folk sound while maintaining a commitment to deepening their understanding of the world through the lens of music.
"The Honey Dewdrops have a way of filling their songs with humanity, using their beautiful playing and harmonies to emphasize what connects us all," Depression Music Journal said of their new album, Light Behind Light.
Doors open at 7 p.m.
Advance tickets are $20; or $25 at the door.
Court Square Theater is located at 41-F Court Square in downtown Harrisonburg.
For more information or to purchase tickets, visit courtsquaretheater.org or call (540) 433-9189.