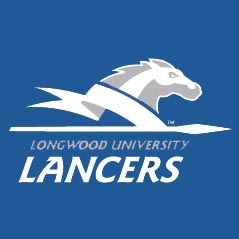 In front of a raucous home crowd in
Willett Hall
Wednesday
night, Longwood point guard
Quincy Taylor
broke out for a career-high 34 points, including
24
in the second half, to lead the Lancers to a 74-73 come-from-behind win over Dartmouth.
Taylor spearheaded Longwood's comeback by sinking two game-winning free throws with six seconds remaining to cap an 8-0 run over the final minute of play. Longwood (3-5) trailed by double digits at halftime, but Taylor took over by hitting 9-of-10 shots from the field and all four three-pointers during the final 20 minutes to bump the Lancers to 2-0 on their home court.
None of Taylor's shots were bigger than his last three, however, as he sank a driving layup with 15 seconds left to cut the deficit to 73-72, then drew a foul after a Dartmouth (1-3) turnover and knocked down both free throws to give Longwood its first lead of the half.
"Quincy is just a tremendous leader, a tremendous person," said head coach Jayson Gee, who rallied his team from an 11-point halftime deficit. "I'm happy for him. I'm happy for him to have that kind of success. He deserves it because of how hard he's worked and how difficult a road it's been for him. Let's let this be the start of big things."
Taylor's 34 points were the third most by a Lancer in the Division I era. The career night came in just his fifth game at Longwood and followed on the heels of a four-game stretch in which he averaged 10.5 points and 3.3 assists per game, numbers that both he and head coach Jayson Gee considered modest for a player whose collegiate resume included a starting point guard role at uab as a sophomore.
Gee stated after last Saturday's 77-4 loss at Iowa that "everyone knows Quincy's better than how he's been playing, but he's frustrated right now. We have to give him some confidence, give him some encouragement and help him weather the storm."
Consider the storm weathered.
Taylor outscored nearly every player on the floor Wednesday night by more than double except for his own teammate, Shaquille Johnson, who matched a career-high with 18 points and hit 11-of-11 free throws. Johnson came alive in the second half as well, scoring 13 points, hitting all nine free throws and grabbing five rebounds.
"I thought we showed tremendous character and heart to fight through so much adversity and find a way to win," Gee said. "I was so impressed with our guys in the second half, and it was nice to see the real Quincy Taylor that I've been telling everybody about. He was fantastic."
Taylor's and Johnson's performances were enough to withstand a double-double from Dartmouth point guard Malik Gill, who came off the bench to score 14 points and dish out 10 assists. He was one of three double-figure scorers for the Big Green (1-4), leading a trio that included Connor Boehm's 14 points and Alex Mitola's 10.
But while the story of the game will forever zero in on Taylor's effort in the second half, the team captain deflected credit to his teammates and noted that days of successful practice were the main ingredient in Wednesday's win.
"The past couple days at practice, we've been playing really well," Taylor said. "Just feeding off other guys' energy. There's been a lot of enthusiasm and intensity in the gym, and it really feeds into how everybody's been playing. Shaq's been great these past few days, and what he did tonight is something we've seen all week. It all really just started with practice."
It was an anti-Iversonian comment for the ages but one that holds truth for a Longwood team coming together on the fly while playing without a single player who was on the roster before the 2013-14 season. Taylor is one of three eligible transfers on this year's squad but is now Longwood's leading scorer after Wednesday's performance. He, Johnson and redshirt junior center Lotanna Nwogbo – a transfer from Tulane – are Longwood's three leading scorers and combine to average 40.8 points per game.
The Lancers will continue their building process this Saturday in a home matchup against UT-Martin at 5 p.m. That game will air on the Big South Network and will be Longwood's final home game until a Dec. 20 meeting against Penn State Beaver.