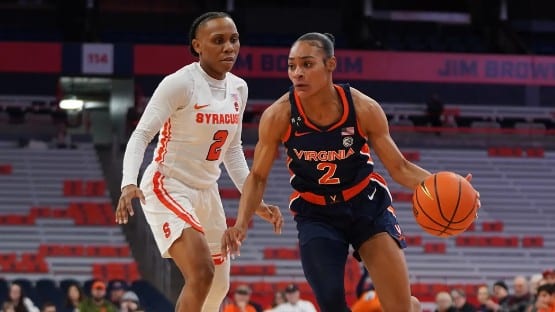 Virginia, reeling since the loss of star Mir McLean, dropped another one on the road, this time a 90-72 setback at Syracuse on Thursday.
Syracuse guard Dyaisha Fair was the difference, scoring a season-high 36 points with a career-best eight three-point shots.
As a team, Syracuse (14-7, 5-5 ACC) made 12 three-pointers.
Syracuse also managed to beat UVA (14-7, 3-7 ACC) on the boards, a statistic the Cavaliers have dominated most of the season. The Orange outrebounded Virginia by a 38-31 margin. The Hoos entered the contest ranked 15th in the nation in rebound margin at +9.4.
Camryn Taylor, despite missing much of the third quarter in foul trouble, led the 'Hoos with 20 points. She fouled out of the contest with 4:30 remaining in the final quarter.
It was 41-39 'Cuse at the half, and still a relatively close game, 65-58 Orange, at the end of three.
Fair made sure the Cavaliers would not make another rally in the final period. She ripped off 17 points, hitting 5-of-6 from the field, and all three of her three-point attempts.
The Buffalo transfer added four free throws to score a total of 24 points in the half. Fair entered the game second on the NCAA active career scoring list with 2,416 points.
"Credit to Syracuse for playing a good game, but that was not our best effort," said UVA coach Amaka Agugua-Hamilton, who played for Syracuse head coach Felisha Legette-Jack at Hofstra from 2003 to 2006 at Hofstra.
Agugua-Hamilton later served as an assistant coach for Legette-Jack at Indiana from 2009-2011.
"I'm very disappointed in the way that we showed up to this game and how we executed the game plan. We definitely are better than what we displayed and need to get back to work and come together," Agugua-Hamilton said.