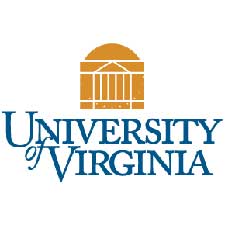 In her new position at the University of Virginia, award-winning political science professor Larycia Hawkins will continue the work that has defined her career: studying and building connections between political, racial and religious groups.
Hawkins, who was a graduate fellow at UVA's Miller Center for Public Affairs from 2006 to 2007, became a fellow at UVA's Institute for Advanced Studies in Culture this month. She comes to Charlottesville from Wheaton College, a private Christian college in Illinois, following controversy over her decision to wear a hijab as an expression of solidarity with Muslim women, acknowledging the challenges they face in a volatile political climate.
Her fellowship – the Abd el-Kader Visiting Faculty Fellowship – is named for Emir Abd el-Kader, a 19th-century Islamic leader renowned for sheltering Christians during a massacre in Damascus and for his compassionate treatment of prisoners of war.
Hawkins will work on both the institute's Race, Faith and Culture Project, which examines how multiracial Christian communities could impact American race relations; and its Pluralism Project, which studies changing majorities and minorities.
UVA Today caught up with Hawkins as she settled into her new role to discuss her research, thoughts on solidarity and hopes for her fellowship.
Q. What is the central focus of your research?
A. Most of my research studies the intersection of race, politics and religion. For me, it is difficult to get into racial dynamics of politics without getting into religious dynamics. Recently, I have studied black Catholicism, looking at community activities led by priests and congregations in poor, high-crime areas in Chicago. I am trying to understand what kind of city, state and national politics these parishes generate.
I am also studying how Tea Party women impact the Tea Party politics, particularly reproductive politics. Most people focus on the more masculine aspects of the Tea Party, but the role women play at the grassroots level, in terms of setting party agendas, is very interesting. I am interested in who is written into Tea Party politics and who is written out, whether that is homosexuals, single women without children or women on welfare.
Q. What drew you to this type of research?
A. My grandfather was a pastor at the black Baptist church I grew up attending. I was always intrigued by the dynamics. He was very strict about the separation of church and state, and unlike many black churches, you would never see political pamphlets or flyers in the foyer. I remember someone walking the aisle with voter registration cards and hearing my grandfather say that we do not do that here. I was about 8, and the idea stuck with me. My grandfather was very civic – he served in World War II and with the Federal Aviation Administration. However, he did not see his role as influencing his congregants to vote in particular ways.
I didn't necessarily choose to study race, religion and politics; it kind of chose me. I began graduate school while working for the government, and thought I would return to do policy work. I still love policy, but became disillusioned seeing communities going without needed grants. I discovered that I liked teaching, as an opportunity to mentor and walk alongside students in research and in life. I enjoy building a rapport with students, and had all of my classes over for dinner while at Wheaton, which was a privilege.
Q. Your decision to wear a hijab in solidarity with Muslims sparked controversy and theological discussion at Wheaton and beyond. Is there anything that you would like to clarify about that decision?
A. My decision to wear the hijab was primarily personal, based on my conviction about what human and religious solidarity looks like. It was an act of human solidarity with people who have been oppressed mightily and increasingly oppressed in a very short time. The uptick in vitriol and venomous rhetoric at the end of last year really hit me. A few students discussed wearing hijabs when they flew home for Christmas, as a show of solidarity, and I consulted with the Council on American Islamic Relations on their behalf.
Solidarity to me means suffering with. At the time, it was the season of Advent. I kept thinking about what it would look like for me, as a Christian, to suffer with my Muslim sisters. I talked with Muslim friends and decided to wear the hijab as an act of human solidarity and religious devotion during Advent.
I tell my students that theoretical solidarity is not solidarity at all. It is easy to sit in class and talk about how the world is, but we cannot be paralyzed by our privilege and that means putting ourselves in the midst of injustice in order to understand it and be in physical, embodied solidarity with the suffering. I think Millennials and Gen-Xers understand that it is easy to push "like" on Facebook, donate money or buy a T-shirt supporting a cause, but much harder to make bodily sacrifices.
It's counterintuitive, but we need to think about what it means to use our education and economic privilege to evince solidarity and lead by example with our bodies.
Q. Part of the intention of the Abd el-Kader fellowship is to promote intercultural dialogue and bridge deep differences. How does that mission resonate with you?
A. Abd el-Kader, using his position to protect prisoners and Christians under attack, is the epitome of embodied solidarity. What an honor to be able to follow in the footsteps of someone like him and use this fellowship to think more about what embodied solidarity means.
I love traveling in the developing world, which I and many scholars call "the majority world," home to the majority of people. The most generous hospitality I have ever received has been in the remotest, poorest parts of the globe. In a rural Himalayan village, a couple invited me into their one-room home, where they cared for an orphaned child. The first thing they did was make chai. I did not want to accept, because I knew how little chai they must have, but they offered it with great joy and hope. Their first instinct was to host and share. It reminded me of Jesus' miracle multiplying the bread and fish.
For me, embodied solidarity is not about lowering myself to people beneath me, but humbling myself to learn from people who have wisdom forged through suffering. The perspective of the oppressed is something that we are sorely lacking.
Q. Why did you choose UVA?
A. While at the Miller Center, I was impressed by the level of intellectual stimulation, scholarly engagement and interchange of ideas in this community. Many places talk about interdisciplinary research and cross-pollination; UVA actually makes it happen. The Miller Center and the Institute for Advanced Studies in Culture are excellent examples of spaces here that have been hewn out for interdisciplinary work, and that scholars from across the country and the world seek out. Most people in academia want that kind of collaboration, but UVA provides the administrative wherewithal, money and programing necessary to make it happen. Political science should be relevant beyond academia, and places like the Miller Center and the Institute for Advanced Studies in Culture are making that possible.