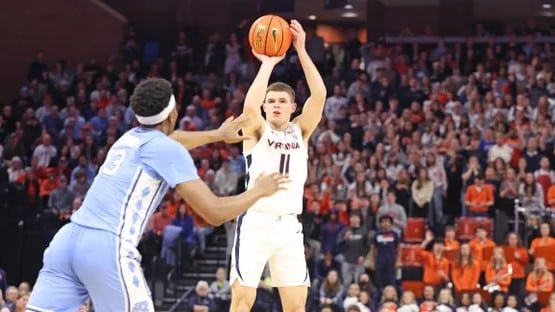 It was only 37-31, but North Carolina was owning Virginia on the defensive end. Virginia was 10-of-28 from the field, and it was because the offense wasn't generating good looks.
Tony Bennett countered by going with a four-guard lineup around Ben Vander Plas at the five at the 15:12 mark, and stayed with it the rest of the way.
Because it worked.
Virginia's small lineup outscored Carolina 34-21 in the final 15:12 on the way to a 65-58 win on Tuesday at a raucous JPJ.
North Carolina (11-6, 3-3 ACC) lost All-ACC center Armando Bacot 1:19 in when Bacot stepped on Kadin Shedrick's foot while snaring an offensive rebound.
Hubert Davis was able, at least in the first half, to cobble together Bacot-like numbers out of freshman Jalen Washington, who had been getting 3.5 minutes per game coming in, and Justin McKoy, the transfer from Virginia who had been averaging 5.6 minutes.
Washington went for 12 points on 5-of-7 shooting in 11 first-half minutes, and McKoy had two points and six rebounds in 10 minutes.
UNC went on a 21-5 scoring run over a nine-minute-plus stretch of the first half to open up a 24-15 lead inside of four minutes to go in the half.
Virginia (12-3, 4-2 ACC) was able to get it back to two, 29-27, at the break.
The second half opened with the Tar Heels getting back out to a seven-point lead on an RJ Davis jumper with 16:08 to go.
Davis hit the back end of a two-shot foul with 15:12 left to make it 37-31 North Carolina.
That was when Bennett went with his small-ball lineup – Kihei Clark, Reece Beekman, Armaan Franklin, Isaac McKneely and Vander Plas.
Bennett tweaked the offense to clear up the middle for more dribble-drives by Clark and Beekman, which eventually opened up shots on the perimeter for McKneely and BVP.
There were also sets for Franklin in the post that the guard converted into three tough buckets down low.
UVA took the lead, as it turns out, for good, on a Vander Plas three with 12:52 to go, part of a 17-2 Cavaliers run that was punctuated by another BVP three that put UVA up 52-42 with 9:25 left.
The Tar Heels would get the margin back down to three, at 58-55, on a Caleb Love three with 2:48 on the clock, but McKneely answered with a three from in front of the Virginia bench 27 seconds later.
Another Love three got Carolina to 61-58 with 1:08 to go.
On Virginia's next possession, Beekman split two UNC defenders for a thunderous dunk to make it a two-possession game, and then Vander Plas stole a crosscourt pass and took the ball to the rim for another dunk to put the game away.
Vander Plas had 17 points and eight rebounds for Virginia, which got 13 points and five assists from Beekman, 12 points and nine rebounds from Franklin, and 11 points from the freshman McKneely.
Davis had 16 points to pace North Carolina.