Here's a sobering thought: a new AAA study reports that more than one in four motorists were so sleepy driving in the past month that they had a hard time keeping their eyes open while driving.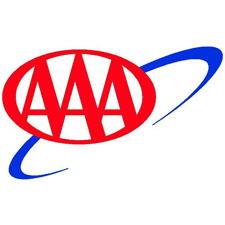 The sleepiest driving group, according to the AAA Foundation for Traffic Safety study: 19- to 24-year-olds, at 33 percent.
The least likely: the 75-and-over and 16-to-18 cohorts, at 22 percent each.
Yikes, right?
Last year, The Virginia Department of Motor Vehicles reported 3,159 crashes on Virginia's roadways as a result of drowsy driving because the motorist either fell asleep or was too fatigued to drive, with 21 of those crashes involving drowsy driving ended in death.
"Like other dangerous behaviors, such as distracted driving and driving while impaired, many Americans, 95 percent, believe driving while fatigued is dangerous, yet 41 percent admit to doing it anyway," said Tammy R. Gobert, Public Affairs Specialist for AAA Mid-Atlantic.  "As an advocate for motorists, these are the type of irresponsible behaviors and perceptions AAA is trying to change," said Gobert.
An estimated 17 percent of fatal crashes, 13 percent of crashes resulting in hospitalization, and seven percent of all crashes requiring a tow involve a drowsy driver, according to a 2010 study by the AAA Foundation for Traffic Safety.
"Drowsy driving remains a significant threat to drivers that believe they can push onward to their destination when in reality should be stopping for a rest," said Gobert. "Sleepy drivers often mimic many of the same unsafe behaviors of someone that is driving impaired such as slower reaction time, impaired vision and lapses in judgment."
Some warnings signs that may signify drowsiness while driving are:
The inability to recall the last few miles traveled
Having disconnected or wandering thoughts
Having difficulty focusing or keeping your eyes open
Feeling as though your head is very heavy
Drifting out of your driving lane, perhaps driving on the rumble strips
Yawning repeatedly
Accidentally tailgating other vehicles
Missing traffic signs
AAA urges all motorists to stop driving and find a safe place to pull over if experiencing any of the drowsy driving symptoms. To remain alert and be safer behind the wheel, AAA suggests:
Get plenty of sleep (at least seven hours), especially the night before a long drive;
Drive at times when you are normally awake;
Schedule a break every two hours or every 100 miles;
Avoid heavy foods;
Travel with an alert passenger and take turns driving;
Avoid medications that cause drowsiness or other impairment; and
Consult with a sleep specialist or other medical professional if you have trouble getting enough rest or are chronically fatigued.
The AAA Foundation for Traffic Safety collected the data as part of the 2013 Traffic Safety Culture Index. The data reported here are from the sample of 2,325 licensed drivers, ages 16 and older, who reported driving in the past 30 days. Participants were surveyed using a web-enabled probability-based panel representative of the U.S. population.
AAA is highlighting the risks of drowsy driving in support of the National Sleep Foundation's Drowsy Driving Prevention Week,® which runs Nov. 3-10.  For more information about drowsy driving, visit the National Sleep Foundation's drowsy driving website at www.DrowsyDriving.org.