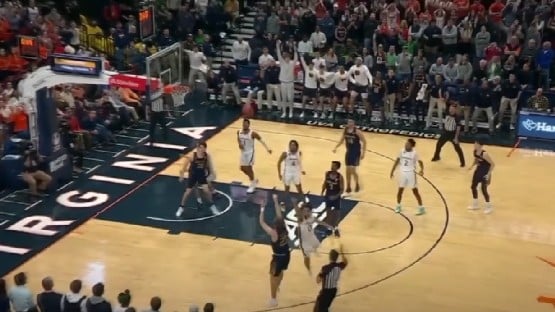 Virginia led Notre Dame by eight with six minutes left, but Notre Dame scrapped its way back to having a wide-open three to win it at the buzzer.
I'm afraid to watch the replay, because it might go in next time.
The naked eye tells me the shot by Dane Goodwin hit the front rim and bounded off, and the sixth-ranked Cavaliers escaped a close one with an ACC bottom-feeder for the second time this week, winning this one 57-55, in front of a stunned sellout crowd at JPJ.
Stunned because, how did that work out so well for the Irish, and how did Goodwin miss?
Notre Dame coach Mike Brey had called a timeout with 3.9 seconds left, after Trey Wertz had made the front end of a one-and-one.
Virginia coach Tony Bennett had directed his team to foul after Jayden Gardner missed the front end of a one-and-one with eight seconds left.
One free throw there, of course, could've iced the game.
Credit to Wertz here for executing the perfect miss. The shot hit the back of the iron and bounced well above the rim, allowing Wertz, in the scrum of everyone boxing out and fighting boxouts, to get the board, then kick it out to Goodwin for the open look.
All manner of emotion swept over the home crowd for the interminably long period of time that the ball was in the air, none of it positive.
Memories were evoked of the Florida State buzzer-beater here 51 weeks ago.
I swear I could feel this one hitting the bottom of the net.
And honestly, it would have been deserved.
Notre Dame (10-17, 2-14 ACC), like Louisville on Wednesday, outplayed Virginia (21-4, 13-3 ACC) in the final minutes.
UVA led 53-45 with 6:09 to go on a three by Ben Vander Plas, but Notre Dame answered back with a three by Nate Laszewski its next time down the floor.
The Cavaliers, from here, would make only one of their last eight shots from the floor, a driving layup by Kihei Clark with 3:22 to go that made it 55-50 UVA.
A Marcus Hammond jumper with 2:16 go to made it a three-point game, and a pair of free throws from Hammond with 24 seconds left got it to 55-54.
Clark made both ends of a tense one-and-one at the 22-second mark to get it back to three.
Goodwin missed from three with 10 seconds to go, and Gardner rebounded, was fouled, giving him the chance to salt the game away.
The shot hit the back iron, was rebounded by the Irish, setting up the final sequence.
Highlights
Box score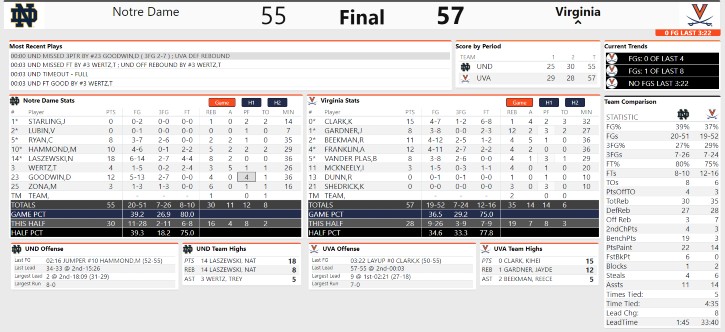 Inside the box score
Clark had 15 points (4-of-7 FG, 1-of-2 3FG, 6-of-8 FG) and four assists for Virginia.
Armaan Franklin had 12 points (4-of-11 FG, 2-of-7 3FG, 2-of-2 FT) and four rebounds.
Reece Beekman had 11 points (4-of-12 FG, 2-of-5 3FG, 1-of-2 FT) and five assists.
Jayden Gardner had eight points (3-of-8 FG, 2-of-3 FT) and 12 rebounds.
Vander Plas had eight points (3-of-8 FG, 2-of-6 3FG) and four boards.
Virginia shot 36.5 percent (19-of-52) from the floor and 7-of-24 (29.2 percent) from three-point range.
Notre Dame shot 39.2 percent (20-of-51) from the floor and 7-of-26 (26.9 percent) from three.
Laszewski had 18 points (6-of-14 FG, 2-of-7 FT, 4-of-4 FT) for the Irish.
Goodwin finished with 12 points (5-of-13 FG, 2-of-7 3FG).