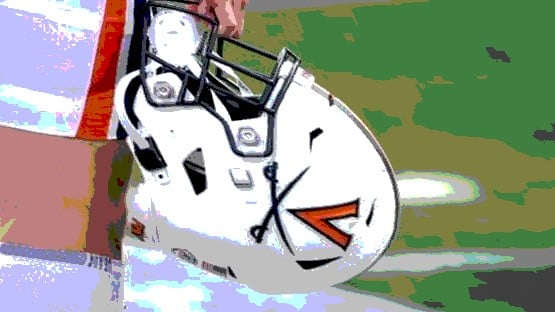 They haven't even played yet, and it's already a low point for the, let's say, last 40 years of UVA Football, that the 'Hoos are six-point 'dogs at home to JMU, which is in Year 2 as an FBS program.
Yeah, that's no respect for UVA Football, but also, to borrow from the guy who was the head coach until a couple of years ago, it's earned, not given.
But I'm already straying from what I'm trying to do here today.
My therapist keeps telling me that I need to, at least occasionally, "see the good."
I try to counter that, seeing things as they actually are is how I make a lot of money at this journalism thing, how I live in a big house in the nice part of town, the rest, but I see her point.
"See the good."
So, here's me, doing my best to see the good.
How do the 'Hoos win this one on Saturday: well, it starts with the game plan.
Last week, I wrote that I assumed Tony Elliott and Des Kitchings would devise a game plan for Tennessee that would stress trying to establish the run early, the goal being to try to shorten the game, to try to keep the score close into the second half, at least give the team a fighting chance.
The first play from scrimmage was an empty-backfield set.
The first possession was a three-and-out with three passes – an incompletion in the flat, a second incompletion on a deep 50/50 ball, a 5-yard gain on a wide-receiver screen.
Virginia ran the ball five times in the first quarter, 12 times total in the first half.
The lack of a running game allowed Tennessee to keep the Virginia D on the field, which eventually wore a unit that did a good job for a while.
Elliott conceded after the game that he probably should have, you know, tried to establish the run a little earlier, but that he and Kitchings had thought going in that they might be able to catch UT off-guard.
This is why he gets paid millions, folks.
I'm not seeing the good saying that.
(Clears throat.)
Elliott will show us Saturday that he learned his lesson that he shouldn't have had to have learned, and he'll get Kitchings to try to establish the run early against JMU.
The UVA O line has 30-plus pounds on JMU across the front, and the Dukes' linebackers are quick, but tiny – 218 and 214 pounds.
The base JMU D is a 4-2-5. They want you to throw the ball into their five defensive backs and their sideline-to-sideline 'backers.
For UVA on offense, basically, use the bigger O line to push JMU's front six around, stay ahead of the chains, get first downs, shorten the game.
On D, as I said earlier, the UVA defense had its moments last week. Tennessee scored on its first drive, but then sputtered for a while until the Vols were able to get separation with a scoring drive just before the half and then another on their first drive of the third quarter.
Those were the culmination of the advantage in number of plays run, which was a reflection of how ineffective the UVA offense was.
The JMU offense can put up points in bunches, and it starts with their run game.
The Dukes ran on 59.4 percent of their snaps last year. The scheme spreads the field to create running lanes, and generally it's executed pretty well.
The focus for the UVA D will be on controlling the line of scrimmage on early downs, to force JMU's new quarterbacks – Jordan McCloud and Alonza Barnett – to have to move the chains through the air on third-and-medium or third-and-long.
Personally, I think Vegas is reaching making JMU a big favorite in this one. I mean, six points on the road translates to Vegas thinking the Dukes are 8.5 points better on a neutral field and 11 points better if the game was being played in Harrisonburg.
Again, this itself is a low point for UVA Football, but that is what it is.
I think last year's JMU team, with Todd Centeio at QB, probably is between six and 11 points better than this year's UVA team.
I don't know that I see this year's JMU team being that, at least not in Week 2.
I see a window for UVA to get out early in this one and get a workmanlike victory.
In the process, I'm making my therapist happy, because I'm really going out my way to see the good.