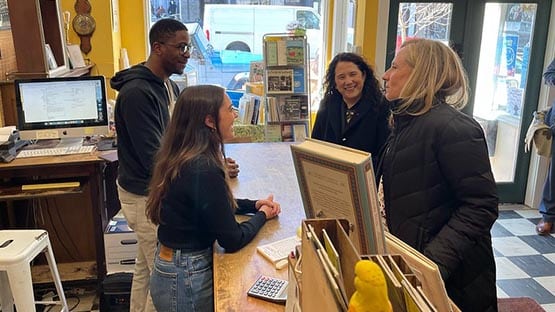 The U.S. Small Business Administration's administrator Isabella Casillas Guzman met with members of Fredericksburg's small business community on Wednesday to learn more about the area's economic opportunities and challenges.
A roundtable discussion was held for entrepreneurs to learn more about how federal, state and local governments can help improve access to capital, provide support and grow the state's economy.
Following the conversation, Guzman and U.S. Representative Abigail Spanberger (D-VA-07) took a walking tour of the area. They were joined by Virginia SBDC leaders, University of Mary Washington officials, SBA Regional Administrator John Fleming, and SBA Virginia Richmond District Director Carl Knoblock.
During the tour of local businesses, Spanberger and Guzman visited Hyperion Espresso, Jus Pop'n, Wren & Sparrow, Riverby Books and Latitudes Fair Trade.
"The Fredericksburg area has a strong business climate. And to further grow the region's economy, the SBDC at the University of Mary Washington is ready to provide more resources for Virginians looking to start a new business, expand their operations, and get the word out about their products and services," said Spanberger. "Yesterday, I was proud to bring Administrator Guzman to Fredericksburg to see firsthand the experiences of local business owners on the ground — because this direct feedback is how we can make smart reforms that make the system work more efficiently. Virginia is the best place in the country to live, work, and raise a family — and the success of our Commonwealth relies on the success of our small businesses."
Guzman said it was a pleasure to join Spanberger to discuss how the SBA and its partners are improving access to capital and resources.
"Together with the leadership of Rep. Spanberger and other Congressional members, we are working to help more entrepreneurs achieve the dream of business ownership," said Guzman.
Wednesday is celebrated as National SBDC Day – a day to recognize centers for their support of small businesses in marketing and business strategy, finance, technology transfer, government contracting, management, manufacturing, engineering, sales, accounting, exporting and other topics.