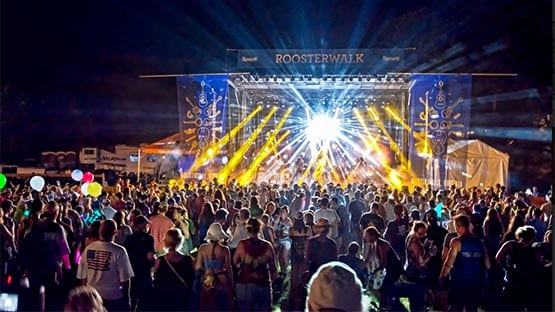 The Rooster Walk 13 festival returns Memorial Day weekend to Martinsville. The four-day festival running May 25-28 celebrates music, art and the great outdoors of the idyllic Pop's Farm venue.
With roughly 50 acts performing on six different stages, including 80 sets of live music, the family-friendly Rooster Walk offers a wide variety of kids' activities, craft beer, great food, art, kayak river floats, bike rides, yoga, a disc golf course and on-site camping.
Some of the acts include Pigeons Playing Ping Pong, Black Joe Lewis & The Honeybears, The Lil Smokies, Orgōne, Dangermuffin, Kelsey Waldon, Erin & The Wildfire, The Judy Chops, Songs From The Road Band, Dave Eggar Band, The Jared Stout Band, Cristina Vane, Empire Strikes Brass, Into The Fog, Blue Cactus, Rob Cheatham and Co., Oh, Christopher, P&HCC Jazz and the Junior Appalachian Musicians.
The festival was created in memory of late Martinsville natives Edwin "The Rooster" Penn and Walker Shank, who graduated from Martinsville High School in 2000.
A portion of proceeds from the festival will be donated to local and regional charities, including Rooster Walk's own Penn-Shank Memorial Endowment Scholarship Fund for students at Martinsville High School, and the Rooster Walk Music Instrument Program for public band programs in the local city and county school systems.
Tickets for Rooster Walk 13 are now on sale at www.roosterwalk.com,
The festival is produced by Rooster Walk Inc., a 501c3 nonprofit dedicated to promoting music, arts and education in its home of Martinsville-Henry County. Since 2009, Rooster Walk Inc. has donated more than $270,000 to local and regional charities.