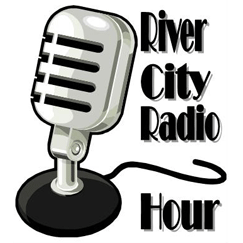 What: Radio Hour Remembers Christmas
When: Friday and Saturday, December 19 & 20, 2014 at 7:00pm
Where: Main Street United Methodist Church, 601 W. Main St., Waynesboro, VA
Tickets: $16 (in advance), $20 (at the door)
The River City Radio Hour will present a special dessert-theater celebration of Christmas on December 19 and 20 in the Fellowship Hall of the Main Street United Methodist Church. The 7pm performances will combine music, comedy, and drama to lift the holiday spirits to a new level. Led by Richard Adams and the Boogie Kings, the evening will feature Marsha Howard, Barbara Lawson, Robert Young (aka Duffy), and Dustin Roadcap..
"This is the Radio Hour's fifth Christmas special," said Clair Myers, producer. "This year's celebration is packed with music and comedy. Barbara Lawson is back with her Mary Margaret McBride. Duffy brings another of his essays. And Richard Adams has brought the Basic City Boys alive again for their Christmas of 1964. This will be one of the best 'Radio Hour Remembers Christmas' ever."
The 2014 December Radio Hour will also features Christmas favorites played by the boogie kings with special vocals by the keyboard genius William Hayes with assists from J. T. Fauber on percussion and Richard Adams' assorted horns and strings.
Dustin Roadcap who was a lead performer in the recently revived musical The Bedford Boys will bring a medley of songs that have come to mean Christmas for generations from the Baby Boomers to the Millennists.
marsha howard declares she has found a new source of humor and has gathered jokes to make "the holiday bright." Her worthy companion is Barbara Lawson whose storytelling has been recognized by the Virginia Commission for the Arts as one of its touring artists.
Duffy, the singing cobbler, who touched the Radio Hour audience with his essay about his Aunt Clara and her wheelchair, brings a story for the season. "Christmas at Dad's" records the Christmas when he was nine and took the bus from Cleveland, Ohio to this father's home in rural West Virginia. It will remind everyone of that special Christmas that stands out in their mind as THE Christmas memory.
Tickets are available at the WTA office at 533 West Main or by calling 540-943-9999. Tickets, which include the performance and dessert, are $16 preshow and $20 on the day of performance.