The good: Anthony Colandrea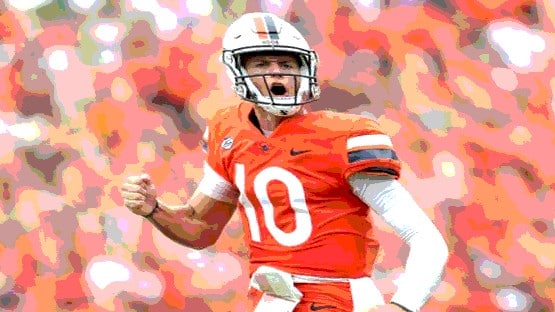 True freshman Anthony Colandrea was a revelation on Saturday, throwing for 377 yards, completing 20 of his 26 pass attempts, accounting for two TDs through the air.
What stands out, one, is his accuracy: 11-of-12 for 139 yards (114.9 NFL rating) on passes of 0-9 yards, 3-of-3 for 98 yards (158.3 NFL rating) on throws 10-19 yards downfield, and 3-of-7 for 132 yards (89.9 NFL rating) on passes that went 20-plus yards in the air.
Two, the yards after catch: 217.
Colandrea tended to hit guys in stride and led them to gain extra yards.
That's an underrated stat.
He got no help from his O line (which allowed four sacks) or his running game (which because the line couldn't clear holes had 43 sack-adjusted rushing yards on 31 attempts).
Everybody in the stadium knew that he had to throw the ball for UVA to move the ball.
For him to put up those numbers in that environment is notable.
The bad: The UVA run defense
The defense as a whole was bad, borderline ugly – giving up the game with back-to-back eight-play, 80-yard JMU touchdown drives in the fourth quarter.
The run defense, in particular, needed to do a better job.
JMU gained 168 sack-adjusted rushing yards on 33 tries, so, 5.1 yards per rush.
Where the Dukes found the most success: middle left (48 yards on six attempts), middle right (32 yards on four attempts).
Basically, the A gap, 80 yards on 10 attempts, eight yards per.
If you can run through the A gap and get eight yards, you do that.
And then: right tackle, 44 yards on six attempts, 7.3 yards per tote.
That's just too easy.
The ugly: So much else
I'll start with Tayvonn Kyle, the Iowa State transfer defensive back, who last week was torched for five catches on six targets for 47 yards, a TD and a 138.9 NFL passer rating against.
This week, Kyle was burned for seven catches on eight targets for 76 yards and a 106.3 NFL passer rating against.
Sum total through two weeks: opposing QBs are 12-of-14 for 123 yards, a TD and a 127.1 NFL passer rating.
A defense is only as good as its weakest defender. Kyle is this unit's weakest defender.
That he has to be on the field for the majority of the snaps (59 of the 73 on Saturday) is a sign of the lack of depth for Virginia in the secondary.
Ugliest: The O line
I feel like Dean Wormer getting ready to tell the guys at Delta their midterm grades here.
Ugonna Nnanna, the right tackle, who gave up three sacks last week, was debited for two more on Saturday.
His Pro Football Focus grade: 47.4.
Nnanna got 40 of the 63 offensive snaps at right tackle.
Jimmy Christ got the other 23. He gave up two QB pressures on the 12 pass snaps, and had a 42.2 PFF grade.
McKale Boley got 57 snaps at left tackle and earned a 41.7 PFF grade. The other six snaps at right tackle went to Blake Steen, who graded out at 36.1.
The guards: Noah Josey went for all 63 on the left side, graded out at 49.6.
Brian Stevens went for all 63 on the right side, and graded out at 56.8.
Congratulations, Mr. Stevens.
That puts you at the top of the Delta pledge class.
Ty Furnish, the center: zero-point-zero.
OK, it wasn't quite the bad, but Furnish had a 39.7 PFF grade, giving up a sack, getting called for two penalties, and still having trouble getting his shotgun snaps to the QB on a consistent basis.