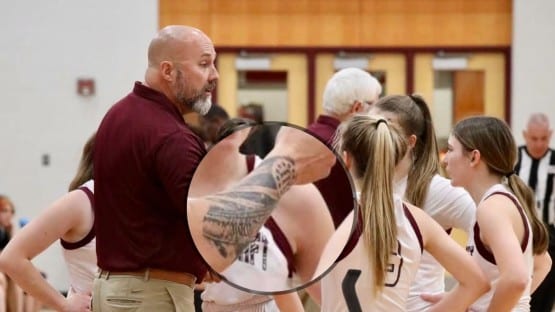 Aint no parent worried bout the man's tattoo. Stop spreading rumors.
No one cares. Keep playing.
You can't hide.
Biut take yall down.
Whoever wrote the article on coach Carter. Hope you can box. Yall gonna get lit up.
Fuck reading better be ready.
Gay liberal news.
That bald guy times up.
I suggest a back track on that irresponsible article.
Or I dont have nothing to do but run your shit in the ground.
I'll do it Iraq veteran yall never done shit lying on peolel.
Retract it or your business will be done.
Racist im have yall shut down.
Jeff Morris/Facebook
---
This is representative of the level of response for Stuarts Draft High School girls basketball coach James Carter, who we wrote about back on Feb. 22 ("Parents raise issue with SDHS girls basketball coach's Three Percenters tattoo").
There's nothing new with the nearly two-week-old story. The Augusta County school system never got back to us to answer questions about whether or not administrators think it's appropriate for a teacher and coach with a tattoo representing a dangerous anti-government militia group to be in a leadership position involving kids.
Neither have we heard anything back from the high school or Carter.
The circle-the-wagons approach speaks volumes; it's obvious the hope is that the story just goes away.
And it would, except that I'm getting threats from people like this Jeff Morris character, who left this stream of consciousness for us in a Facebook message last week.
"Hope you can box. Yall gonna get lit up."
"Gay liberal news."
"That bald guys times up."
"Ill do it Iraq veteran."
I don't know if I'm supposed to run scared, but this is where the redneck in me from being born and raised on both sides of Augusta County comes out and says, hell, no.
The anti-government militia folks in these parts got me all wrong.
If you want me to look into this story even deeper, make it a daily headline, keep it up.
In the meantime, this Jeff Morris guy, he's so brave, he blocked me on Facebook, so that I couldn't write him back.
Folks on that side get off on calling other people snowflakes, but they're the ones who are scared of the light of day.