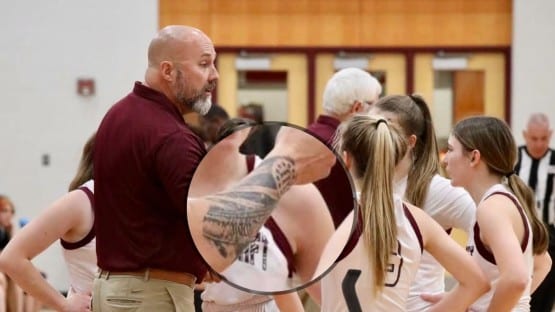 A large tattoo featuring the symbol of a dangerous antigovernment militia group is drawing the wrong kind of public attention to the girls basketball coach at Stuarts Draft High School.
One parent raised issue with the Three Percenters tattoo on the right forearm of SDHS girls hoops coach James Carter to a top administrator in Augusta County Public Schools last month, "but it's hard to judge whether they're taking the complaints seriously or just sweeping them under the rug," the parent told Augusta Free Press.
The tattoo first came to the attention of this parent and other concerned citizens who have reached out to us about it and about Carter, who is also a special education teacher at SDHS, in a Jan. 24 photo of Carter posted to the Stuarts Draft High School Facebook page.
"It is sad that a coach in the position to shape the values and attitudes of young people is sending such a disgraceful message," the parent who first brought this to our attention told us.
We're not going to publicly identify that parent out of abundance of caution, considering the possibility for blowback given what is known about the Three Percenters movement.
The Three Percenters group that the tattoo on Carter's forearm pays homage to is a loosely affiliated militia group that advocates armed resistance to the federal government.
Members of Three Percenters groups have been involved in multiple threats aimed at federal authorities, state legislators and the plot to kidnap and kill Michigan Gov. Gretchen Whitmer.
The presence of a tattoo doesn't signal that Carter is a member of a Three Percenters militia group, certainly, but it would seem to imply at least some level of support for the group's ideology.
AFP tried to connect with Carter, whose team's season ended Tuesday night in a loss in the Region 2B quarterfinals, to get his side of the tattoo story, but he did not respond to two efforts to reach him, on Monday and Tuesday.
We also tried to make contact with SDHS principal Nick Nycum, the high school's athletics director, Jeremiah Major, and Augusta County schools superintendent Eric Bond.
No one from among that group returned either of our messages to them asking for comment.
The first attempt to make contact with authority figures at the high school and the school system's central office was made on Monday.
The next day, the Stuarts Draft High School Facebook page featured another photo of Carter that showed him gesturing with his right arm, the Three Percenters tattoo clearly in the photo.
We did hear back from Nick Collins, the chairman of the Augusta County School Board, who told AFP that he had not been aware of any situation that had existed with Carter until we reached out to him this week.
"A lot of our employees have tattoos of one sort or another, and we've had to address issues with a number of things that have come up over the years with items that teachers have in their classrooms. For the time being, I want to see where this thing is going to go before I say much more about this," Collins said.
We've heard from several people in the Stuarts Draft community who have things to say about the coach and the message that his anti-government tattoo sends to student-athletes at SDHS.
It's apparently the talk of the town, even as the school system is trying to alternatively pretend that there is no issue, and also trying to sweep the brewing controversy under the rug.
"More troubling is when you dig a bit deeper and notice how that tattoo is recent, as well as his public comments on Facebook degrading the LGBTQ community, conspiracy theories, and election denying," the parent who brought this to our attention told us.
"While I understand that people have a right to their own opinion, again I'm baffled the administration in Augusta County has tolerance for this type of behavior," the parent said.
Collins, who has served on the county school board since 2007, said the board can't act "until there is an issue brought to us," ostensibly meaning, brought to the school board by the administration, and noted that even then, "this kind of thing is a constant moving target," given the First Amendment considerations at play.
On a personal level, Collins noted that he has known Carter, a Buffalo Gap High School graduate and Staunton native, "for a long time, since the early 2000s when he was coaching at Buffalo Gap High School, and I think he's done a great job," Collins said.