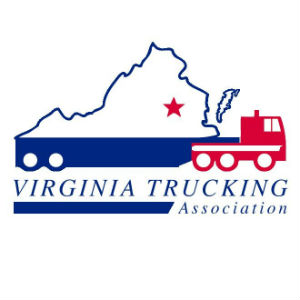 The Virginia Trucking Association joined the American Trucking Associations and America's Road Team Captains in turning attention to highway safety in anticipation of a busy Fourth of July holiday.
AAA projects a record number of Virginians will travel to celebrate Independence Day this year. The exact prediction, 1,181,377, is up 1.4% from last year and nearly nine out of 10 travelers (1,023,462) will be hitting the road for the all American road trip.
True to form, July Fourth is the busiest travel period of summer, as residents of the Commonwealth of Virginia declare their independence from the workplace by jockeying bumper to bumper on every inch of roadway and vying for every exit ramp around.
"Whether you're heading to the beach, a family barbecue or to watch the fireworks and celebrate our nation's birthday, it is important to be mindful of other vehicles and to be courteous and responsible on the road," said America's Road Team Captain Charlie Demchock of Walmart Transportation.
"June is National Safety Month, but just because the month is ending, doesn't mean that safety can be ignored," said America's Road Team Captain David Green of Werner Enterprises. "Whether it is allowing extra following distance, putting down cellphones, buckling up or making sure you never drive impaired, safety is my highest priority on the road and it should be yours as well."
America's Road Team Captains offer these safety tips to remind motorists about some key elements of safe driving, especially relating to operating small passenger vehicles near large tractor-trailers.
Buckle Up: Seat belts save lives. Day or night and even if you're riding in the back seat – wear your seat belt.
Slow Down: Chances of a crash nearly triples when driving faster than surrounding traffic. The spring and summer are periods when work zones are busiest. It is important to reduce speeds when traveling through those areas.
Do not drive impaired: There is a lot to celebrate this time of year, with graduations, weddings and holidays seemingly every weekend. With that said, driving is a great responsibility and your fellow travelers are relying on safe, attentive drivers to respectfully share the road and make good decisions.
Be aware of truck blind spots: When sharing the road with large trucks, be aware of their blind spots. If you can't see the truck driver in his or her mirrors, then the truck driver can't see you.
Keep your eyes on the road: Distracted driving is a major cause of traffic accidents. Even just two seconds of distraction time doubles the chances of an accident. Use your cell phone when stopped and never text while driving.
Do not cut in front of large trucks: Remember trucks are heavier and take longer to make a complete stop, so avoid cutting quickly in front of them.
Prepare your vehicle for long distance travel: Check your wipers and fluids. Have your radiator and cooling system serviced. Simple maintenance before you leave your home can prevent many of the problems that strand motorists on the side of the road.
Leave early and avoid risks: Leave early so you won't be anxious about arriving late. Road conditions may change due to inclement weather or traffic congestion.
Be aware of the vehicle in front of you: Leave extra room between you and the vehicle ahead.