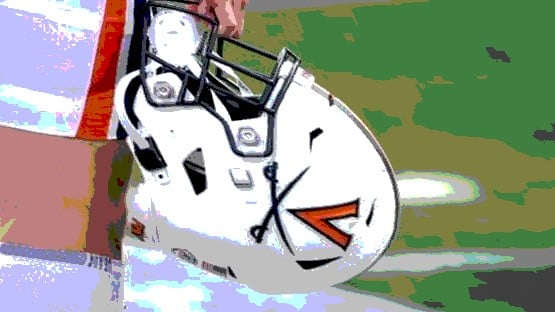 Two games in, wins over Towson, an FCS program, and Charlotte, a non-Power 5, Maryland has shown that it has the ability to move the ball.
The Terps (2-0) are averaging 38.0 points and 489.5 yards per game, with Taulia Tagovailoa, Tua's little brother, averaging 273.5 yards per game through the air, and the rushing game putting up more than 200 yards a game the hard way.
It's what they can do on the ground that should get your attention.
The UVA rush defense has been a weak point, surprisingly, given that the assumption coming into the season was that the front was a strength for the defensive unit.
Virginia's first two opponents averaged 227.0 yards per game and 5.3 yards per attempt on the ground, which, if you can get five yards per attempt on the ground against an opponent, you definitely do that, and then do it some more.
JMU was able to go for eight yards a carry through the A gap last week, which is, you know, no, not good for a defense, that it can get gashed that much at what should be the strongest point of the defensive unit.
The A gap, a focal point for both Tennessee (19 attempts, 95 yards) and the Dukes (10 attempts, 80 yards), is like a boxer's jab in a prizefight; if you can land the jab on the opponent's nose with any consistency, everything else opens up.
Maryland has the run game, behind leading rusher Roman Hemby (110.0 yards per game, 7.1 yards per carry in 2023), to take advantage of Virginia there.
Muskett's back
The sample size is small, but all Anthony Colandrea did in his first career start last week was lead the Virginia offense to the most points it has scored to date under second-year coach Tony Elliott and second-year offensive coordinator Des Kitchings.
It seems pretty clear that he's back to the bench, with the guy who by all accounts (those accounts coming from Elliott) edged him out for the QB1 job, Tony Muskett, getting back behind center Friday night.
Which is what it is, rooting for him and all, but Muskett didn't look good in the 49-13 loss to Tennessee, which, yes, sacked the bejeezus out of him (actually, four times; it just seemed like more), pressured the crap out of him (20 times; again, seemed like more than even that).
Muskett was 9-of-17 for 94 yards in the loss.
I'll set myself up for getting in trouble with a certain sector of the fan base (you know who you are) for pointing out that that the QB at Austin Peay, the FCS team that the Vols beat 30-13 in Week 2, had it just as tough in his game as Muskett did in Week 1, and was able to fare better.
The Governors' QB, Mike DiLiello, was sacked seven times, faced 15 total pressures, but was able to work through the pressure to be able to go 29-of-39 for 260 yards and a TD through the air in the loss in Neyland Stadium.
Not a bad effort there from a guy who had passed for 214 yards (20-of-34, 2 TDs, 2 INTs) in Austin Peay's season-opening 49-23 loss to Southern Illinois.
It's hard to get a good gauge on what Maryland's D is capable of given the weak early schedule. The first two opponents, the FCS school and the non-P5, averaged 295.0 yards per game, 136.5 yards on the ground, 4.0 yards per attempt there.
You'd like to think that those two opponents averaging 4.0 yards per tote could be a sign that Virginia might be able to finally get something going on the ground.
The ground game for Virginia only mustered 43 sack-adjusted rushing yards last week, and of the 117 sack-adjusted rushing yards it put up in the Week 1 loss in Nashville, 114 of those came after Tennessee had opened a 35-3 lead, so, basically, garbage time.
What Virginia needs to do
Going in a two-touchdown 'dog, obviously what you try to do is shorten the game, but I keep writing that, and Virginia hasn't been able to do that yet.
The 'Hoos had the chance to put last week's game away in the fourth quarter with the lead and the ball inside of nine minutes to go, but the offense was only able to get two first downs, one through the air, one on the ground, on a nervewracking fourth-down play, before having to give the ball back to the JMU offense for one final drive with plenty of time on the clock.
Maryland is going to invite Virginia to try to establish that it can gain yards on the ground, so success on early downs will be key.
On the defensive side, plug the A gap already, needs to be the focus for defensive coordinator John Rudzinski.
Make Maryland work to gain yards on the ground, get some second-and-longs, third-and-mediums, to give yourself a chance to get off the field.
It's … doable. Not likely, because Maryland has had this one circled as a W on its schedule for months now.
Their big games are Michigan State, the Big 10 opener, next week, Ohio State a couple of weeks after that.
This is a Maryland program that went 8-5 last year, and thinks it can be better than that this year.
Virginia is a bump in the road.
Keep this a game into the third quarter, put some game pressure on them, and who knows what can happen.