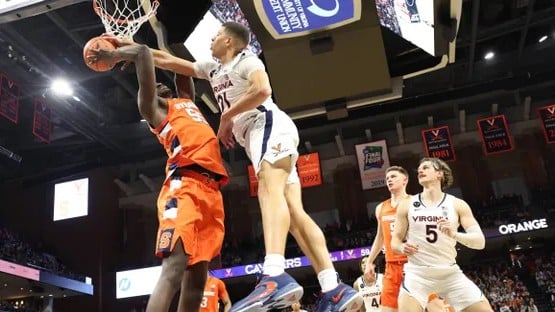 Syracuse has already lost four games at home, but North Carolina needed some help from the officials to escape the Dome with a 72-68 win last week.
The Orange (13-9, 6-5 ACC) get sixth-ranked Virginia (16-3, 8-2 ACC) Monday night (7 p.m. ET, ESPN) with both teams on the short turnaround from games on Saturday.
Virginia won its game, a noon tip with Boston College, and was able to sit back and watch 'Cuse play in prime time on the ACC Network, an 85-70 loss at Virginia Tech.
So, both teams had to travel from the Commonwealth to upstate New York. As it happens, Virginia may have the advantage just with a few more hours to let their afternoon game sink in.
Last time out
UVA defeated Syracuse 73-66 on Jan. 7. The Cavaliers led by as many as 23 in the second half, then went into a scoring lull for a seemingly endless 7:39 stretch as the Orange chipped away.
The outcome was never really in doubt despite the final score.
Tony Bennett played this one with his season-long starting lineup. It would be the next game, the Jan. 10 win over North Carolina, when he'd go with 6'8" forward Ben Vander Plas in place of 6'11" center Kadin Shedrick at the five spot, going small, as folks like to say.
Vander Plas, in the first matchup, had six points and four rebounds in 25 minutes off the bench.
BVP at five against the Syracuse zone could be primed for a big night.
Armaan Franklin led five 'Hoos in double figures in the Jan. 7 win with 16 points.
Bennett used Kihei Clark and Reece Beekman in the free throw pocket area, and they combined for 18 assists.
This was the game where Bennett told freshman Isaac McKneely to take the parking brake off, and McKneely responded with 12 points on 4-of-7 shooting, all from three.
Syracuse got 19 points from Joe Girard and 18 points from freshman Judah Mintz.
Projections
Bart Torvik: Virginia 69-63, 74% win probability
ESPN BPI: Virginia +5.4, 71.4% win probability
Evan Miya: Virginia 70-65, 70.3% win probability
KenPom: Virginia 70-65, 66% win probability