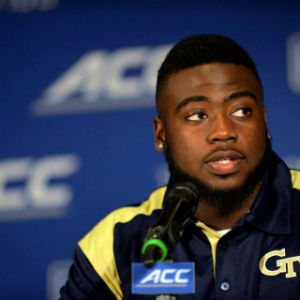 Q. We've had a lot of conversation this morning about the quality of offensive line play in the ACC at this time. I'd like to know your thoughts on that. How good are the offensive linemen on your team and the teams that you see?
SHAQUILLE MASON: I feel that the offensive line play in the ACC is very strong this year. I feel like it's the strongest it's been in a while, and the offensive linemen on my team, as well, are very strong, very competitive, and they think they're just as good as anybody else in the ACC.
Q. The team obviously in Georgia Tech has been able to attack on the ground, and I want to go into some of those guys that you feel are going to be effective in the backfield?
SHAQUILLE MASON: I feel like Zach Laskey, our B back, I feel like he's going to have a good year at that position. And Synjyn Days, A back, I feel like he'll be our strongest option at A back.
Q. How much did the quarterback change surprise you, and where are you in terms of being able to get this offense to a point, back to a point where it is a problem for people to contend with?
SHAQUILLE MASON: It surprised me. It surprised everybody, honestly. You know, they had made the decision, the best decision for him, and the backup Justin, he's doing a good job of taking command and accepting his role and working hard, and I mean, it's not a dropoff, if any.
Q. Last year your season you won in blocks, you lost in blocks. What was it about that up and down part of the season? What is it about the adjustments that were made during the year that will make you a better football team this year?
SHAQUILLE MASON: The major adjustments that were made is finishing, because many times this season we were up on teams, especially in ACC play, we were up and just couldn't put the nail in the coffin, couldn't finish the drives, couldn't finish plays, and that's something we've been hammering in each other's heads is finishing.
Q. What excites you about this season?
SHAQUILLE MASON: The chemistry of our team excites me a lot, because I haven't saw this since I stepped foot at Georgia Tech. This is the closest team I've been around.
Q. What is it about the chemistry?
SHAQUILLE MASON: Just everybody is working for each other. Everybody is grinding for the person next to them. Everybody is pushing each other to take the extra rep, take the extra sprint. That's a good thing to have on the team.
Q. Is there a different bond on the offensive line than it is with any other group of guys out on the field, whether offensively or defensively? Are you guys different in your personality?
SHAQUILLE MASON: I wouldn't say it's just a different type of personality, but we have a different bond because our offense goes as far as our offensive line goes, so we know that we have to be a band of brothers and stick together because as far as we make the offense go.
QUAYSHAWN NEALY
Q. To start out, on defense, you're returning four starters, really five. You had an injury last year in Isaiah Johnson. But coming back you've lost a lot of guys. What have you been doing to rebuild this offseason?
QUAYSHAWN NEALY: Definitely just leaning on the seniors to pick us up. We've definitely been picking up the younger guys. I mean, we have some guys that came in and filled some big shoes, like KeShun Freeman. He's going to be playing Jeremiah Attaochu's position. We have D.J. White at the corner that's going to be pretty strong for us this year, and then with Isaiah and Jamal Golden back at safety, we're going to be pretty strong on D.
Q. What's the first thing that needs to be worked on when you guys break or get started with camp here in a couple of weeks?
QUAYSHAWN NEALY: One of the things that we're going to work on is just the fundamentals, the little things, making sure the assignments as far as in feet work, alignments and things of that nature, because little things make the big things happen. We're just going to take our time and work on assignments and key reads and things of that nature.
Q. Ted Roof took over as defensive coordinator last year. He of course is a Georgia Tech alum, wore the Jersey in the mid 80s. What has he brought to this defense?
QUAYSHAWN NEALY: He's brought a lot of fire. He's somebody that can relate to each player that's out there. Ted Roof is just a very good coach. He's a great coach. As I was saying, he relates to us better than I would say any of the other coaches because he's been through what we've been through, and he definitely just brings a fire because he gets after you. He definitely gets after you. He preaches on the little things, and he's heavy on it. He will definitely get after you.
Q. Quayshawn, Shaquille talked about the team really gelling and coming together more so than before. What can you say from your perspective on the defense how you've come together on that side of the ball overall for Georgia Tech moving forward?
QUAYSHAWN NEALY: We've come together a great deal, just like Shaquille said. Our chemistry has been better than any other years I have seen. Guys are pushing the extra mile and going the extra distance just to make the team better. Guys are not just — they're working hard in the off-season, this season right now, as far as with the sprints. We're just going the extra distance.
Q. You guys, Ohio State, Wisconsin, the only three teams that finished top 11 in both rush offense and defense last year. Is it so much easier to play defense here because you get such long breaks in between series with the way they run the ball? Is there anything to that?
QUAYSHAWN NEALY: It's definitely a great feeling to be off the field rather than have those long drives, have fresh legs. Even going to the next game, that goes a long way, and we definitely look forward to stopping the run first before we defend a pass, and so we put up — we stop the run and that gives us an advantage of getting the offense into a 3rd and 8, a 2nd and 10 or something of that nature, and it's definitely a good feeling knowing that they're behind the sticks.
Q. Because of the style of offense that you run, my guess is that one of your more valuable units on your team is your scout team guys because they have to show you a totally different look. Talk about your scout team and how valuable they are to your team.
QUAYSHAWN NEALY: Oh, they're extremely valuable because like you were saying, we don't see a wishbone throughout the season, not one bit, and those guys, I give them all the credit in the world. They endure a lot, and whatever the coach tells them or draws up on the card, they go out there and do it and give it 110 percent, so I definitely commend those guys, and no matter the circumstance we put them in, they go out there and give it their best.
Q. What's your leadership style? Are you louder in the locker room or louder on the field?
QUAYSHAWN NEALY: I'm definitely louder on the field. I'm working at being more vocal right now as we speak. I'm the type that speaks with my actions versus opening my mouth, and I'm trying to be more of a vocal leader.
Q. So when you sit back at the end of the season after the last whistle, your career is wrapped up at Georgia Tech, how will you think about your career?
QUAYSHAWN NEALY: I definitely will look back on the team's goals. I definitely want to be remembered as the teammate that went out there and gave it his all. When we look down the road, any school year or anything, I just want my teammates to be like that was one heck of a player. That guy did anything the coach asked him. You could depend on that guy to make that play or just to go out there and give it his all.