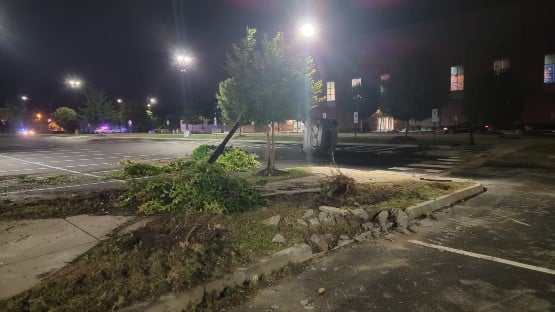 A Petersburg man who stole a bulldozer from a construction area on the Virginia State University campus to go on a destructive joyride overnight is in custody.
Devin Thorne, 27 of Petersburg, was arrested after a wild ride that began shortly before 2 a.m., when Thorne took a bulldozer from a construction area beside the Multi-Purpose Center on Virginia State University's campus.
According to Virginia State Police, Thorne, in the bulldozer, then proceeded to repeatedly strike an unoccupied VSU police vehicle parked in front of the building. He also backed into the building itself causing structural damage, as well as damaging one of the entrances to the Multi-Purpose Building beside the main entrance, several handicap parking signs, and three light poles in front of the building.
Thorne then led the bulldozer out of the parking lot, going across Chesterfield Avenue, damaging property to Ettrick Elementary School as well as a church.
He then went back to the original location and proceeded to push the unoccupied VSU police vehicle that he had struck previously across Second Street and into another parking area, where he damaged two more light poles as well as several small trees before flipping the VSU police vehicle onto its side.
The bulldozer then drove made his way out to Boisseau Street, where he would be taken into custody.
Thorne was charged with felony eluding, two counts of felony vandalism, trespassing, obstruction of justice, and grand larceny.
He is being held without bond at the Chesterfield County Jail.
This incident remains under investigation.