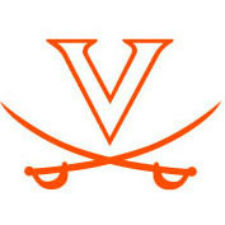 Virginia basketball is atop the Associated Press Top 25 for the first time in 35 years. The Cavaliers (23-2) replace Villanova (23-2) after a week in which both lost games at home. UVA lost 61-60 in overtime to Virginia Tech on Saturday, after 'Nova had lost to sub-.500 St. John's 79-75 on Wednesday.
Last week's #3, Purdue (23-4), meanwhile, lost twice, to Ohio State and Michigan State.
The Spartans (24-3) moved up two spots from last week to #2 in this week's rankings.
Virginia received 30 first-place votes, outpacing Michigan State's 21. Villanova notched nine first-place votes and is third this week. Xavier (23-3) received five first-place votes, and is fourth. Cincinnati (23-2) is fifth.
Other ACC teams in the rankings this week are Clemson (20-4) at 11th, Duke (20-5) at 12th and North Carolina (19-7) at 14th.
The last time Virginia was ranked first in the AP poll was the week of Dec. 21, 1982. The 2014-2015 team spent seven weeks in the #2 spot. This year's team had been #2 for four weeks before climbing to the top spot today.