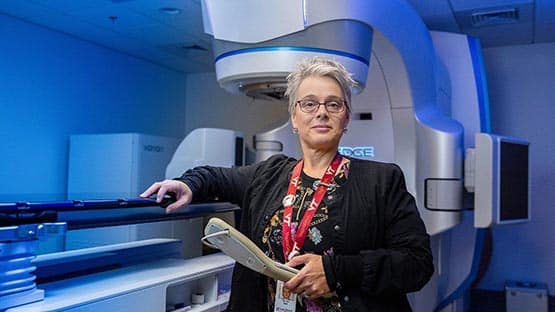 The Virginia-Maryland College of Veterinary Medicine is doing groundbreaking work related to cancer in animals – and researchers there are hoping that their findings might also lead to improved treatments and possible cures for humans.
MaLora Bush, who previously worked in human medicine, is a radiation therapist and medical dosimetrist at the Animal Cancer Care and Research Center in Roanoke – a research arm of the college.
Finding a cure to cancer is a driving passion for Bush, who had four close family members die by cancer: her father to lung cancer, her grandmother to colon cancer, her first husband to brain cancer and her mother to pancreatic cancer.
"That is a huge, huge, huge positive for me, what goes on in here and how that will translate from the patients that we treat to the patients who are treated in the human field," Bush said. "It excites me, the things that are taking place here, as far as chemotherapy and radiation and even surgery that potentially could benefit people like my mom and my first husband, whose journey ended early. That's kind of like the cherry on top of the sundae for me."
Bush said the equipment at the animal center is some of the best available.
"We have our linear accelerator that is top of the line. In my opinion, and I've been to all the cancer centers within a two-hour radius of here, the nicest one that I have had the privilege to treat with is the one that I have here," said Bush. The commitment Virginia Tech has made is phenomenal because this is an extremely advanced linear accelerator. It's what a lot of human facilities are moving toward, and we're very, very privileged to have that here."
Dan Vruink, the center's administrator, agreed with Bush about the prowess of the linear accelerator.
"Using this technology, MaLora is able to deliver unique radiation treatment options to our patients, not only increasing their quality of life, but also providing hope to the families of their beloved pet in their unique cancer treatment path."
Bush has worked as a certified nursing assistant, a behavioral health case manager, and then a cashier and ultimately an operations trainer for 15 years with a large grocery store chain as she also raised three children.
When first husband was diagnosed with terminal brain cancer at age 42, and amid her caring for him, the grocery chain restructured and she was out of a job she might have kept to retirement otherwise. A friend's suggestion led her to seek a new job as a medical records compliance officer and, at times, a medical assistant. It was the start of a new career path for Bush.
When her first husband died at 44, Bush was determined that she "hadn't gone through that for nothing."
Inspired by her husband's radiation oncologist, Bush enrolled in the radiation oncology therapy program at Virginia Western Community College in Roanoke.
But a month before her graduation from the two-year program, while she was working a clinical rotation at LewisGale Medical Center in Salem, her mother was diagnosed with terminal pancreatic cancer. Bush would do her dosimetry rotation on one floor of the hospital, then go to another floor to spend time with her mother, catching what sleep she could in a couple of chairs. Her mother died seven months after her diagnosis.
"From the minute she was diagnosed, she completely changed her whole personality, her voice, everything changed," Bush said. "I think just the word 'cancer' impacts you.
"Our patients (pets at the cancer center) don't know what that means. And I think that's a blessing. In my opinion, and there's nothing scientific other than what I have observed, they do better with the treatment because they don't know what that word means. They're living in the present, they don't know they have cancer."
Bush worked radiation therapist jobs in human medicine in Abingdon, Harrisonburg and Lynchburg and eventually became a clinical instructor at Virginia Western.
It was then that an opening for a "locum," or a backup, for the radiation therapist at the animal cancer center came open. Within weeks of her first stint as the locum, the animal cancer center's main radiation therapist left for a job in Raleigh, N.C., and Bush came on board full-time in early 2021 while still juggling her clinical instructor job at Virginia Western and therapist job in Lynchburg.
With a new master's degree from John Patrick University in medical dosimetry – the science of calculating and measuring medical radiation dosage – and her recent board certification, in addition to her extensive radiation oncology experience, Bush was well equipped for her role at the cancer center.
"The goal is to kill the cancer, and spare everything around it."
Working in the clinical realm at a facility devoted to research has sparked new horizons for Bush she is beginning to explore, seeking a doctorate in health science through the Massachusetts College of Pharmacy and Health Sciences.
"If you would have asked me before I came here if I would have enjoyed or if I would have liked research, I would have said absolutely not," Bush said. "I'm a people person, and nothing about that excites me. However, I have been proven very wrong by being in this building because I get very excited. And I'm excited about what that will bring. Who knows, maybe one day I will be doing my own research."