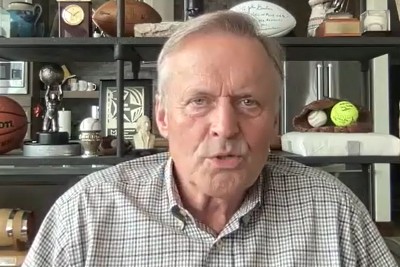 When you hear New York Times best-selling novelist John Grisham discuss, at length, the impact of NIL on college athletics, you get the sense that, hey, maybe there's a novel there, at some point down the road.
"I can see a lot of drama here. A lot of money, a lot of drama, a lot of corruption, a lot of intrigue, a lot of lawyers, lawsuits, a lot of really juicy things here. Hopefully, no dead bodies, yet. All we need is a couple of dead bodies, but not always. So yeah, I can. Yeah, I can probably find a novel here one of these days," said Grisham, who was a guest this week on the "Jerry Ratcliffe Show," mostly talking college basketball, which keeps him occupied most nights in the winter months.
---
---
Grisham has hoops season tickets at two ACC venues – the University of Virginia and the University of North Carolina – his allegiances split because his wife, Renee, and daughter, Shea, are both UNC alums.
His acclaim as an author is for his legal thrillers, but Grisham has carved himself out a nice niche in the world of sports – Calico Joe, a baseball novel, Bleachers and Playing for Pizza, both set in the world of football, and Sooley, an interesting take on college basketball, that last one borne out of the frustration from March Madness being canceled in 2020 due to the pandemic.
"I was with a couple of my buddies here in town, and we were going a bar downtown, having a beer, we had our brackets out, you know, because when you first get your bracket, you're the smartest guy in the room, OK, everybody, we're all brilliant. We're picking our teams, and all the sudden on the big sports bar screen, it said, 'March Madness canceled.' And we were stunned. How do you cancel March Madness? We live for it all year," Grisham said.
Grisham poured his pent-up basketball energy into Sooley, which followed a fictionalized recruit from Sudan who ends up at tiny North Carolina Central, where the protagonist goes on to have a magical freshman season.
As he worked on research for the book, Grisham reached out to long-time North Carolina Central coach LeVelle Moton, whose team opened the 2022-2023 season with a game against Virginia in JPJ.
Grisham picked Moton's brain on what life is like for a small-college D1 coach, but because of the pandemic, he didn't get to meet Moton until the night of the 2022-2023 season opener.
"When I wrote the book, I talked to Coach Moton on the phone. I wanted to meet him and walk through his gym and see his facilities and all that, and he said that we can't, you can't come on campus, because it was total COVID lockdown at Central, and so that was kind of the end of that conversation," Grisham said.
Moton was otherwise very giving of his time, which isn't always the case for Grisham when he reaches out to people to tell them that he's writing a book, and wants to know what they know.
"I think they were kind of wary, like a lot of people are, when I show up and say, Hey, I'm gonna write a book about your, you know, your law firm, or your whatever your case," Grisham said. "People tend to get pretty nervous. And so, they were a little bit skittish at first. It went with good reason. But I always I always tell people, Look, I'm not going to, this is fiction, OK, I'm not going to embarrass anybody. It's going to be a good story. I wouldn't be here, I'm not an attack guy, I'm not going to do the hatchet job on your school."
There has been some interest in making a movie version of Sooley, though Grisham wonders how the novel would translate to the big screen.
"To me, it just looks very hard to do, because I don't know how you see it, but the problem with most sports movies to me is, the action does not look authentic," Grisham said. "It's very hard to capture a pro football game or pro baseball and make it look real. And basketball, I think, this would be very difficult to do, because some of the things that Sooley did in the novel were, thank God for fiction, would be very hard to replicate on a real court with real athletes."
There does seem to be momentum behind a project to bring Calico Joe, a novel inspired by the on-field death of Ray Chapman, who died after being hit by a pitch in a 1920 game, and Tony Conigliaro, whose promising career was cut short when he was beaned in a game in 1967.
"George Clooney has written a screenplay for Calico Joe, and I've read it, it's very good. It's a very faithful adaptation of the novel," Grisham said. "And he plans to direct the movie, I don't know when, sometime, I don't think this year. It's February already. I don't see any signs of the film this year. But he plans to do it, and when George Clooney gets behind something, it normally gets done."