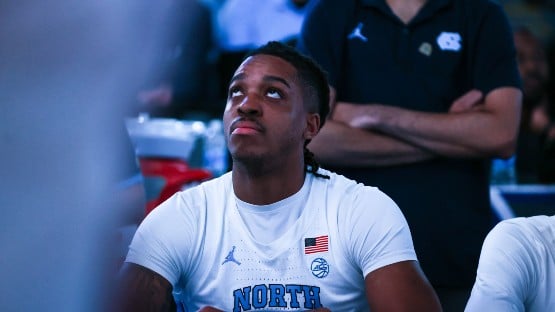 North Carolina star Armando Bacot left Wednesday's 85-61 win over Boston College at the 4:34 mark of the first half after rolling his ankle, and went immediately into the locker room to get a lookover from the trainers.
The 6'9" senior returned to the floor just before the end of the halftime break to get a few shots up in warmups, and was noticeably limping and wincing in pain, but UNC coach Hubert Davis still sent him out there for the first six minutes of the second half – with the Tar Heels already well in control, up 14, at 43-29.
Bacot had two points and a rebound before Davis subbed him out at the 14:27 mark.
He finished with 10 points and six boards, and was on his way back to the team hotel with head trainer Doug Halverson and strength and conditioning coordinator Jonas Sahratian shortly after the game to get treatment on the ankle.
His status for Thursday's quarterfinal game with Virginia: "Yeah, I'm ready to go," Bacot told ESPN's Holly Rowe before he left the Greensboro Coliseum.
Bacot, you may remember, played just a minute in North Carolina's 65-58 loss at Virginia on Jan. 10, which obviously didn't help the UNC cause that night.
He had a quiet night in the 71-63 Carolina win in Chapel Hill on Feb. 25, with 11 points and six rebounds, but UVA coach Tony Bennett acknowledged after that one that his game plan on defense was to limit Bacot's chances in the post, which left shooters open on the perimeter.
The open shooters were 10-of-22 from three-point range in the win in the Dean Dome.
"When Armando is out there, whether it's 100 percent or 75 percent, that's good news for us," Davis told reporters after the BC game Wednesday night.
It seemed iffy, though, that Davis put Bacot back out there in the second half Wednesday night, given that he has a history with ankle sprains.
"I've never seen anybody sustain ankle sprains and be able to come back like he can," Davis said. "He didn't think it was as bad as the one obviously in the Final Four and also the one that, when he hurt it at Virginia."
Bacot told Rowe that he pushed Davis to use him in the second half.
"I mean, it was a must-win," said Bacot, alluding to North Carolina's precarious NCAA Tournament hopes, which might rely on the Heels winning out here this week in Greensboro. "I didn't want to leave it out there with them to have a chance to come back so, I told the coaches, I told Doug, I told Jonas, I give them a good four to six minutes to just give us a bump, and then, we ended up coming out, getting a good enough lead to where I could sit out."
Caleb Love, who had 22 points in Wednesday's win, expected Bacot to want to come back out with the injury.
"Yeah, he's tough as nails," Love said. "He wanted to be out there for this team. I don't have no doubt that he'll be ready to play tomorrow.
"That just goes to show how much Armando cares about this team, this program, and then just shows how much he'll be willing to put his body on the line for this team," Love said.
Depending on when you're reading this, Bacot is going through one of a variety of stages of work to try to get ready for Thursday night.
"Jonas and Doug, they're gonna figure out something. Just a lot of ice, pool work, needles, all that kind of stuff like that," Bacot said.