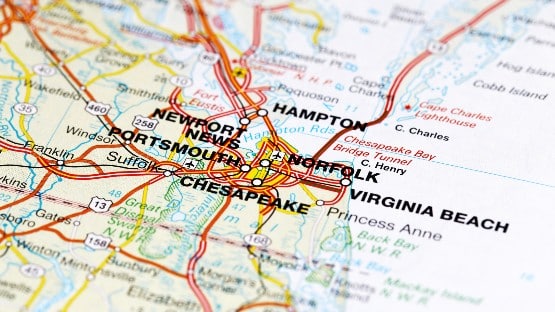 A Norfolk man was sentenced to 12 years and eight months in prison for shooting a teenager in a drug done deal gone wrong that left the teen paralyzed.
Dearon Earnest Mosley, 22, pleaded guilty last March to aggravated malicious wounding and to the use of a firearm in the commission of a felony. On Friday, Circuit Court Judge Michelle J. Atkins sentenced Mosley to serve 20 years in prison, with 10 years and four months suspended, for aggravated malicious wounding, and three years for the use of a firearm.
Mosley's suspended sentence is conditioned upon three years of supervised probation and 10 years of uniform good behavior upon his release from prison.
"Dearon Mosley will spend the next decade of his life in prison, a sentence he has earned," Norfolk Commonwealth's Attorney Ramin Fatehi said. "But the victim will live the rest of his days with only the memory of being able to walk, write, or wave. We have held Mr. Mosley accountable, but the victim will live with Mr. Mosley's crime forever. My thoughts are with him first."
According to court documents, video surveillance from the Save Mart Convenience Store on Ingleside Road showed the then-17-year-old victim pulling into the store parking lot behind Mosley's car the night of the crime, Nov. 5, 2020.
Mosley exited his vehicle and approached the victim's car, and the victim rolled his window down to hand Mosley a face mask before Mosley entered the store. After making a purchase and exiting the store, Mosley got back in the driver's seat of his car, and the victim got out of his vehicle to join Mosley in Mosley's front passenger seat.
After a few minutes, the victim got out of Mosley's car and sprinted back to his own. Mosley gave chase, dove to tackle the victim, and the two began to fight inside the victim's car.
The victim was able to get Mosley out of his car and start to drive away but, as he was driving, Mosley pulled out a firearm and shot at the victim at least four times. One of the bullets Mosley fired hit the victim in the neck, severing his spinal cord and rendering him quadriplegic for life.
Mosley ran back to his vehicle and fled the parking lot.
Norfolk Police responded to the shooting, and paramedics transported the victim to Sentara Norfolk General Hospital. Mosley turned himself in at the Police Operations Center a few hours later.