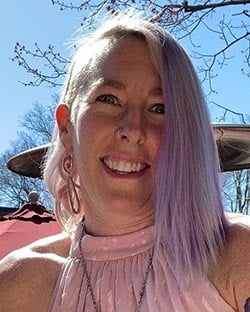 The Shenandoah Valley Technology Council has announced a new executive director to lead the organization starting in October.
Leigh Evans, currently residing in Northern Virginia, will replace Nicky Swayne.
Evans comes to the Valley with extensive experience in nonprofit leadership helping to guide large membership organizations through critical and challenging transformations. She also brings a wealth of knowledge in thoughtful, people-centered technology integration through virtual engagement as well as extensive hospitality and event delivery capabilities.
Evans holds a Juris Doctorate with a concentration in Business Associations and Soft Intellectual Property from George Mason University School of Law, and a Bachelor of Arts in Philosophy and Psychology with a concentration in Social and Political Philosophy from the University of North Carolina at Asheville.
Evans was born and raised in Southwest Virginia and most recently resided in Northern Virginia for 14 years.
The 20-member SVTC Board of Directors conducted its search via a hiring committee established in early 2023.
"The SVTC board could not be more pleased that Leigh Evans has agreed to lead us to our organization's next chapter as our Executive Director. We believe she offers exceptional gifts, skill sets, and experience to move the Tech Council forward by providing tangible value to our members and other community stakeholders, and we cannot wait to introduce her to the Valley," said Michael Goertzen, president of the board.
Evans looks forward to engaging with members and the community.
"After making the decision to move to Harrisonburg to be surrounded by family, my sister sent me the posting for the Executive Director in a text that said, 'I found your perfect role.' I knew making the choice to move would open up new doors and opportunities and was ecstatic when I read the description for the Executive Director position," said Evans. "It was as if someone created a role specifically for me. I am so fortunate to embark on a path of community development, in a place that my family has been a part of for decades".
A meet-and-greet event will be held with Evans on Oct. 18.
To learn more about the SVTC, visit www.svtc-va.org