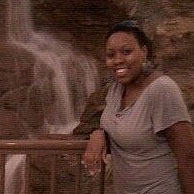 At age 30, Andrea Jackson has seen a little bit of everything.
"People who were wounded in action needed someone to comfort them, sit with them, just be there for them. That was my job," said Jackson, who served as a chaplain's assistant in the United States Army from 2002-2004, and deployed with the 2nd Armored Calvary Regiment in Baghdad at the start of the war in Iraq in 2003.
A Waynesboro native, Jackson returned to Virginia after the military to finish her degree in history at Randolph-Macon, which she completed in 2010.
Earlier this year, Jackson was elected the new chair of the Waynesboro Democratic Committee, and she garnered a new mission.
"So many people I talk to say, I'm a Democrat, but it's not cool to be a Democrat in Waynesboro, so they sort of stay quiet about it. I want to try to change that," said Jackson, who has been blazing trails since her first year of college, in 1999.
She was the first African-American freshman homecoming queen at Randolph-Macon. And now a baker's dozen years later, she's the first African-American Democratic Committee chair in Waynesboro.
The duties of being a party committee chair are not necessarily all that glamorous. Recruiting volunteers, putting together fundraisers, tracking down campaign signs and the like make up the bulk of the volunteer gig.
Jackson sees herself playing a role not entirely unlike what she did in the war zone in Iraq.
"I'm here to help people," she said, specifically in the case of being the local committee chair helping people find their place in the bigger campaign effort.
"For some people, it's volunteering their time, maybe knocking on doors, working at the headquarters, working the phone banks. Some people will write checks, and that's needed, too. Everybody has something to contribute, and I think it's my job to help coordinate all the different things that people can do," Jackson said.
And then there's that aid that a former Army chaplain's assistant can give in the form of helping buck people up.
"I understand that it can be tough to be a Democrat in Waynesboro," Jackson said. "When I decided to get involved, I guess I just came to this point where I said, I can do more than just watch the news on TV. I can be a part of making something happen. We just need more people to be involved. That's how things get done."
Follow the Waynesboro Democratic Committee on Facebook: Click here.