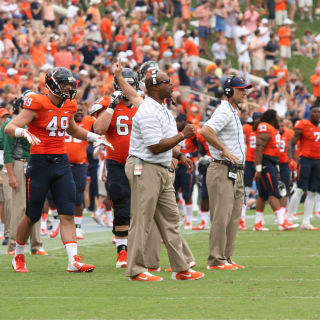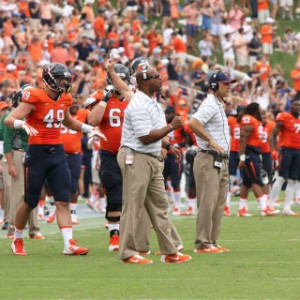 There has been a lot wrong about UVA football these past nine years, three of them winning seasons, but the biggest hindrance has been quarterback play.
Remember Christian Olsen for Heisman? Yikes. peter lalich was the savior, and then he wasn't. Jameel Sewell, God love him, did his best. Michael Rocco, unheralded though he may have been, was probably the best of the group that followed matt schaub at a position that also once featured future NFLers Don Majkowski, Scott Secules, Shawn Moore, Matt Blundin and Aaron Brooks.
Highly-touted recruit Greyson Lambert seemed to finally be the answer heading into a 2014 campaign that is a make-or-break season for coach Mike London, once the recruiting coordinator for his predecessor, Al Groh, who faced down his own make-or-break season in 2010 with unheralded marc verica picking up the pieces from the recruiting failure that was Lalich.
And then like Lalich, like Kevin McCabe, like Anthony Martinez, like Phillip Sims, Lambert's star fell from orbit, comparably as quickly as the rest, with two first-half pick-sixes in his first collegiate start sending him to the bench in favor of lightly-recruited third-stringer Matt Johns, who led Virginia back from a 21-3 second-quarter deficit to get the Cavs back to a one-play game in the fourth quarter before falling 28-20 to seventh-ranked UCLA on Saturday.
Whether there is a real quarterback controversy or not in Charlottesville is a matter of conjecture at this writing. London, after the game on Saturday, and then again in a teleconference with reporters late Sunday, was noncommittal, giving the standard and sensible line to reporters about having to look at game film before making any public pronouncements, though it seemed obvious to the naked eyes of those watching in person and on TV that Lambert was a deer in headlights, afraid of any and all shadows, and that Johns was Brett Favre, not afraid to throw the ball deep, to scramble after running through his progressions and treating fourth-down conversions like a quick out in practice.
London's history with quarterbacks – read: 12 starts in 2013 for David Watford – suggests that he'll go back to Lambert next week against Richmond, and it might be fair for him to do that. Lambert was shakier than a guy with Tourette's drinking a Jolt Cola on a unicycle in a Southern California earthquake, but it was his first start, and he does have all the talent in the world, which is to say, the likes of Alabama, Georgia, Clemson and South Carolina don't offer scholarships to stiffs.
Whatever London decides, he needs to get it right. Richmond won't be a pushover, with UVA castoffs Michael Strauss and the aforementioned Rocco at one and two on the depth chart coming into next weekend's in-state matchup, but assuming a win in Week 2, Louisville in the ACC opener looms in Week 3, and that is pretty much a must-win for Virginia and for London, whose hot seat is cooling for now, but goes nuclear if he loses at home to the Cardinals and falls to 1-2 on the young season, all at home, in a year when he needs to win at least six, maybe seven, maybe eight, to keep his joh.
London, as good as he is as a recruiter, and he's damn good on the recruiting trail, has proven to be less than adept at his choices at quarterback, shuttling uncomfortably between Rocco and Watford in his lone winning season, in 2011, before settling on Rocco, who led Virginia to eight wins and a berth in the Chick-fil-A Bowl, before waffling between Rocco and Sims in 2012 in what turned out to be a four-win season, then sticking to his guns with an overmatched Watford in 2013 in a two-win season that would have gotten any other coach of a program in a power conference canned.
London has gotten it wrong now for three straight years. He gets it wrong a fourth time, and he's done.
– Column by Chris Graham