Column by Jim Bishop
Submit guest columns: [email protected]
Rose Stoltzfus Shenk, 41, of Harrisonburg, is a widow with four boys between 5 and 11 years old. Bruce Buckwalter, 40, of Harrisonburg, is single and never been married.
Credit an Internet computer program for bringing the two together.
Rose spent her early years in East Africa, the daughter of long-term missionaries Joseph and Edith Shenk.
Bruce, the second oldest of four sons of Bob and Betty Lou Buckwalter, most recently of Tok, Alaska, caught his parents' zest for adventure that took the family to church-related assignments in several African nations.
Although Rose and Bruce were aware that their paths crossed several times over the years, neither ever expected that one day they might experience an urge on the verge of a merge.
Rose graduated from Eastern Mennonite University in 1990 and did voluntary service work in the Bronx, New York City, two years, then worked as a nanny for a year. She earned a teaching certificate from James Madison University and then taught at Belleville (Pa.) Mennonite School. She married former Harrisonburg resident Reuben Stoltzfus in 1995 and moved to Charlottesville where Reuben was in medical school at U.Va. They moved on to Iowa City, Iowa, for Reuben to pursue medical residencies in child and adult psychiatry while Rose taught English and drama at Iowa Mennonite School. Three of their four children were born in Iowa.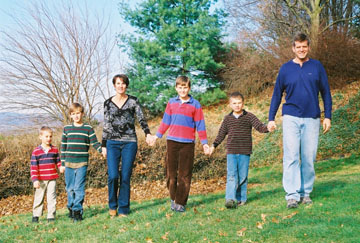 Bruce freely admits to having a heavy dose of wanderlust. His present job, logistics manager at Dynamic Aviation in Bridgewater, he said, is a natural extension of his long-time flight plan of pursuing things he's always wanted to do, then purchasing a ticket to a new venture in some other corner of this wide, wonderful world.
Before moving to Harrisonburg in 2004, Bruce did logistics work for a medical relief non-government agency in Sudan, West Africa. He did gypsy moth research for the state of Virginia after graduating from EMU in 1991 and then followed the wheat harvest out west. He's worked for Partners Excavating in Harrisonburg and spent two years working at a homeless shelter in Alaska – "challenging in more ways than one," Bruce said.
In 2004, the Stoltzfus family moved from Iowa back to Charlottesville for Reuben to pursue post-doctoral work in forensic psychiatry on a fellowship.
Then, Rose's life was suddenly turned upside down. On July 9, 2005, her father, Joseph Shenk, while serving as principal of the Theological College of East Africa in Musoma, Tanzania, was struck by a vehicle while jogging in the pre-dawn light.
Three days later, Reuben died instantly in a head-on three-vehicle collision in Charlottesville, leaving Rose without a spouse and their four children without a father while her own father was knocking on heaven's door. Joe Shenk died of his injuries on July 21.
"I had a feeling that all this wasn't really happening," Rose recalled. "It was like scenes out of a bad movie. But, I had an incredible support system – Reuben's and my extended families and people from the Charlottesville and Community Mennonite churches."
Rose decided to move to Harrisonburg that fall to be closer to family and in time for the start of a new school year. Rose tended to her three sons, then between 5 and 11 years old. Today, Christian, 11, Andrew, 10, Daniel, 7, and Jacob, 5, are students at Thomas Harrison Middle School and Waterman Elementary School.
So how did Rose and Bruce become a twosome? They met via the Facebook social network last November. A friend forwarded Rose's name and some information about her to Bruce, who in turn contacted her, inviting her to "be my friend."
It took her awhile to respond, but once she did, Rose discovered some commonalities, particularly their broad mission-service and travel experiences. "I was especially impressed that Bruce had done service in Sudan," Rose said.
Their first date was Dec. 14, 2008, a contra dance in Charlottesville. "Bruce did most of the talking; I felt intimidated," Rose recalled. "Here I was, 40 years old, going on a date, and even though it was nerve-wracking, Bruce made things easy for me."
After that, they saw each other often. "It was a gradual process, and we wanted to see how well we fit with each other's extended families," Bruce said.
"A big thing for me was Bruce's awareness of my larger story," Rose noted. "He didn't think of himself but showed concern for the larger picture – and, he cooks!"
Then, Rose told Bruce she "wanted to know his intentions" in the relationship by the end of the summer or by his 40th birthday, whichever came first.
During a Sept. 9 outing with some extended family members on an Outer Banks beach, a small aircraft passed in front of the group pulling a banner that read, "Mr. B – Will You Marry Us? – Rose & the Boys." Bruce gave his answer – a yes – within five minutes.
Even though he's had a number of "interesting relationships" over the years, Bruce didn't expect to find himself at this stage of life preparing to say "I do" in the presence of God and many witnesses.
"I think I'm being realistic about what lies ahead," Bruce stated. "I know that the four boys and issues related to parenting styles are a primary concern for a 40-year-old always-been-single guy."
Rose believes she's "a more forceful person today" because she had to make a lot of decisions on her own for some time. "Now, I'm moving back into a partnership," she said, "but it's a move I want to make."
The ceremony will take place Jan. 16, 2010 at Community Mennonite Church, with a honeymoon planned to a spot that Bruce has selected but won't tell Rose where. A family honeymoon north to Alaska will follow in the summer.
Both should be fascinating next installments in this remarkable love story.