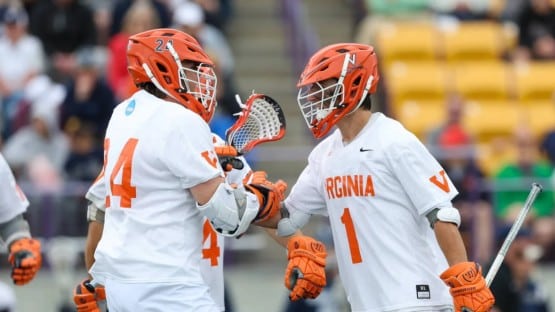 Second-seeded Virginia got six goals and four assists from Connor Shellenberger, his third 10-point output of the season, in a 17-14 win over #7 seed Georgetown on Saturday in the 2023 NCAA Tournament.
The win pushes UVA (13-3) to Championship Weekend at Lincoln Financial Field in Philadelphia, Pa., where UVA will make its 25th semifinals appearance.
Cole Kastner forced a game-high four turnovers, and Cade Saustad limited Tewaaraton Award finalist Tucker Dordevic to just two goals on eight shots.
Matthew Nunes earned the win in the crease for UVA after stopping 13 Hoya shots, including four in the fourth quarter.
Virginia got on top early, with Shellenberger scoring four goals in under seven minutes of play in the first quarter as the 'Hoos led 7-4 at the end of the first.
Georgetown (13-4) chipped away at the UVA lead through,hout the second period. The Hoyas gained possession of the ball in the final 15 seconds of the half and Nicky Solomon scored his first of the afternoon with one second displayed on the game clock to shrink the Cavaliers' lead back to one, 10-9, at the break.
G'town would tie the game twice in the third, but UVA went on a 4-0 run to open up some breathing room, with a Xander Dickson goal making it 15-11 early in the fourth.