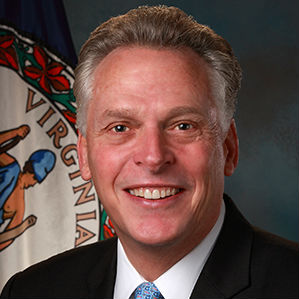 Governor McAuliffe today issued Executive Order 57 directing Virginia Secretary of Natural Resources Molly Ward to convene a workgroup and recommend concrete steps to reduce carbon pollution from Virginia's power plants. The group will evaluate options under Virginia's existing authority to address carbon pollution.
The Commonwealth's electric sector has already made significant strides towards a reduced environmental impact; between 2005 and 2014, carbon emissions from Virginia's electrical generators fell by 21%. Currently the sector accounts for approximately 30% of the state's overall carbon emission. The workgroup will focus on how to continue this trajectory in a way that makes clean energy a meaningful part of Virginia's energy portfolio.
"Increasing Virginia's emphasis on clean energy generation will help grow Virginia's economy by reducing carbon emissions, ensuring our Commonwealth's long-term energy security and creating the next generation of good jobs in this emerging sector," said Governor McAuliffe. "Many of the largest employers on the globe have made it clear that the availability of clean energy is a key part of their decision making process when it comes to new jobs and investments. To continue attracting competitive and innovative businesses, we need to invest in a 21st century energy policy to ensure our grid is reliable, affordable, and clean."
The newly convened workgroup will receive input from a diverse range of perspectives including scientists, energy experts, business leaders, and environmental advocates. The Secretary of Natural Resources will be charged with developing a regulatory strategy to reduce carbon pollution in Virginia's energy sector while realizing opportunities to lead in the new clean energy economy.
"Global warming and sea level rise driven by carbon emissions pose a significant threat to Virginia's environment, economy, and way of life," said Virginia Secretary of Natural Resources Molly Ward. "The energy choices we make today will be felt for generations to come, so it's worth thoroughly reviewing all options under Virginia's existing authority. This workgroup's report will be a jumping-off point for future conversations about climate change and clean energy in the Commonwealth."
The group's recommendations will build upon the McAuliffe administrations existing efforts to improve energy efficiency and transition the Commonwealth to carbon-neutral energy sources. Executive Order 31 directed state agencies to implement energy efficient practices, protecting Virginia's environment and bottom line. The governor established the Solar Energy Development Authority to catalyze growth in this rapidly-expanding market.
Additionally, Governor McAuliffe set new procurement standards for state agencies, requiring eight percent of the energy they consume to be generated by renewables within the next three years.