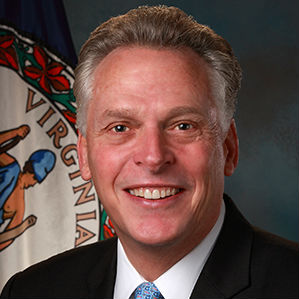 Today Governor McAuliffe announced that Virginia has restored the civil and voting rights of over 5,100 ex-offenders, more than any other governor has done in just one year. Additionally, the governor announced major changes to the restoration of rights application process for offenders of more serious crimes, including shortening the application from 13 pages to just one page and removing burdensome requirements such as notarization and letters to the governor.
"Today marks an important milestone in Virginia history," stated Governor Terry McAuliffe at the First Baptist Church in south Richmond. "I have always believed that people who have served their time and paid their debts to society should have the opportunity to be contributing members of society again. By providing Virginia's former offenders with a second chance, we can reduce recidivism, increase participation in our democratic processes, and build a new Virginia economy." Governor McAuliffe also personally gave three former offenders grant orders that restored their civil and voting rights at the event.
Secretary of the Commonwealth Levar Stoney continued, "While Virginia has traditionally been one of the most restrictive states in restoring ex-offenders civil and voting rights, this administration has focused on reducing burdens for those who deserve a second chance. This announcement builds upon the progress our administration made earlier this year in streamlining the restoration of rights processes and will provide more Virginians with pathways to success."
Governor McAuliffe announced in May of this year significant changes to the restoration of rights processes, including moving all drug-related offenses into the non-violent category and reducing the waiting period for more serious offenders to get their rights restored from five to three years.
Virginia is one of twelve states that have the most restrictive restoration of rights processes and prohibits voting and civil rights even after a person has served his or her sentence and is no longer on probation or parole, unless approved by the Governor.
The steps Governor McAuliffe has taken this year aim to reduce recidivism and felony disenfranchisement in Virginia, which currently ranks the fourth highest in the nation. However, according to the Virginia Department of Elections, 71% of Virginians who have had their rights restored this year are already registered to vote.
Speaking about the announcement, Delegate Peter Farrell (R-Henrico) stated, "I am glad to see restoration remains a strong focus of the administration. This is important work for our commonwealth. We want people to rejoin society and participate in a positive manner and this step can help in that process."
Senator Mamie Locke (D-Hampton) added, "Today's announcement represents a positive step forward for the Commonwealth of Virginia.  I commend Governor McAuliffe for his hard work, dedication, and leadership.  He is a strong believer in the idea that once you've paid your debt to society, you should be able to participate in the civic process, including voting."