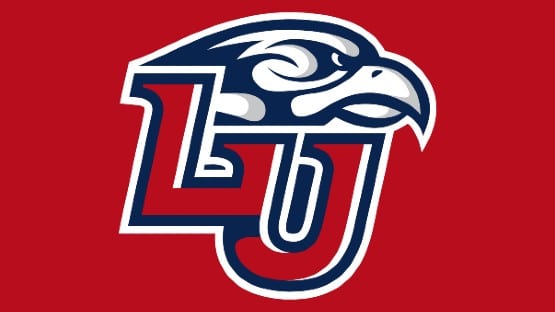 Liberty's Shiloh Robinson scored a career-high 27 points in helping the Flames down North Alabama, 72-54, in ASUN action on Thursday in Lynchburg.
Robinson's career night came on 11-of-13 shooting from the field and 3-of-4 shooting from beyond the arc.
Joining Robinson in double figures were Darius McGhee (16 points) and Kyle Rode (14 points).
The win improves Liberty to 13-5 and 4-1 in the ASUN. North Alabama slips to 9-9 and 1-4 in conference play. The Lions have lost four straight games.
With the game knotted at 13-13 at the 12:48 mark of the opening half, Liberty surged ahead with a 16-0 run to take command. Rode's back-to-back threes at the 7:16 and 6:46 marks, both assisted by McGhee, put the Flames ahead 29-13.
Liberty led by 19, 39-20, at the break, and by as many as 25 early in the second half. The Lions used a 10-1 run later in the half to get within 13, 61-48, with 5:07 remaining in the game. Shiloh Robinson buried a three on the Flames' next trip down the court at the 4:39 mark to extend the lead back to 16 (64-48).
Robinson scored six more points after that down the stretch, with his layup at the 3:59 mark giving him a new career high. The senior forward made a free throw and then went on to make his final shot of the night, a three-pointer at the 1:26 mark, to give him 27 points and push the Liberty lead back up to 20, 72-52.
"I thought our defense was good, for the most part," Liberty coach Ritchie McKay said. "I'm pleased with our effort. Shiloh obviously had a really good game. I think we've got a group that will pick up the pieces and take what the defense gives them, and I thought that was evident tonight. We have a group that really is mature in their response."