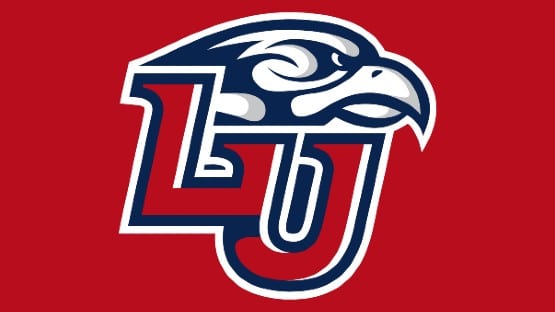 Liberty earned a share of the 2023 ASUN regular-season title, racing past Queens for a 73-53 victory on Friday evening in front of a Liberty Arena-record crowd of 4,041 fans.
The Flames finish the regular season with a 24-7 overall record and 15-3 ASUN mark. Liberty shares the ASUN regular season title with Kennesaw State (23-8, 15-3 ASUN).
In five years in the ASUN, the Flames have shared the ASUN regular season crown three times (2019, 2020, 2023), won the outright title once (2021) and claimed a division title (East Division, 2022) one time.
Liberty will be the No. 2 seed for the upcoming 2023 ASUN Men's Basketball Championship. The Flames will face either No. 7 seed North Florida (14-16, 9-9 ASUN) or No. 8 seed Bellarmine (14-17, 9-9 ASUN) in the quarterfinals.
UNF and Bellarmine will square off on Monday at 7 p.m. in the first round, with the winner set to face Liberty in Tuesday's quarterfinals at 7 p.m. Both games will be held at Liberty Arena.
The Flames' 15 victories in conference play are their most ever in a conference season. Meanwhile, Liberty's 24 regular season wins are the third most in school history.
Prior to Friday night's game, the Flames honored their five-player senior class – Darius McGhee, Stephen Burggraf, Blake Preston, Kyle Rode and Shiloh Robinson – with a special ceremony. The program also honored managers Joshua Street and Tyler Czock.