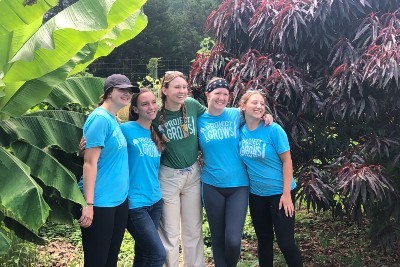 Project GROWS wrapped up the second summer of its Youth Leaders in Agriculture program with a showcase and tours of the farm in Augusta County on Tuesday afternoon.
While this year's four youth leaders shared their stories of participating in the program, community members enjoyed food made by them, including fried green tomatoes and zucchini bread.
Katie Weaver, who will study health and exercise science at Bridgewater College in the fall, is a Stuarts Draft High School graduate. She said that Tuesday afternoon's event was an opportunity for youth leaders like herself to meet members of the community who supported the program this year.
"I really like how Project GROWS makes the point to teach young people how to eat healthy," Weaver said. She enjoyed meeting a diverse group of individuals through her work at Project GROWS this summer, and hear about their backgrounds and their stories. "I feel like you don't get that in a lot of places."
Rosie Clark, a graduate of Fort Defiance High School, said Tuesday was "a real showcase of what we've done," and an opportunity to show members of the community where they grew produce and worked for almost two months, as well as meet community members.
"It's also a celebration of the end of the program for this year," Clark said.
Clark participated in last year's program after a field trip as a homeschooler.
"I started getting into growing house plants," she said of her interest in agriculture. That grew into an interest in farming opportunities. She was invited back this year as a crew leader, and helped with education and children's camps.
She is considering a career in farming after high school, and a variety of opportunities exist. She enjoys growing vegetables but also enjoys growing and arranging flowers.
"I'm pretty interested in it. I like the community and the people a lot," Clark said. She particularly appreciates learning how farmers care about the land they work. "I like the hard work and the outcome of the hard work."
Other members of this year's program were Bailey Hughes, a senior at Staunton High School, and Kiersten Collins, a Staunton High graduate.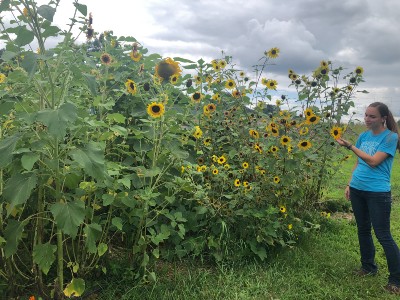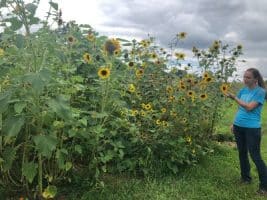 Kenzie Ballard began as a supervisor with the leadership program in early June. She led "Kenzie's Corner" with the youth leaders. On Tuesday, they made fried green tomatoes for their afternoon guests. In previous sessions, they made zucchini bread. But Ballard also taught them about macro-level food issues, discrimination by the United States Food & Drug Administration, food sovereignty, sustainable business practices, and injustices against farmers and black leaders. They discussed problems and solutions in the country's food system, including the effects of climate change on farming. Ballard said it was important to her for the youth leaders to understand the connection between how a small farm in rural Virginia connects with and is part of the rest of the world, and the bigger picture of growing food to feed a population.
Nichole Barrows, Project GROWS' director of education, spoke before the group of youth leaders and community members. She said the youth leaders learned the five pillars. Farming: how to serve on a farming crew "from seed to harvest." Personal community health, leadership: how to speak in public and carry yourself with confidence, how to connect your interests to farming, and career exploration.
"Folks have been here for two months and I feel like we've tried to cram a lot in," said Robert Clemmer, Project GROWS Farm Manager. He said that the Youth Leaders in Agriculture grew from elementary, middle and high school students visiting the farm. Project GROWS was looking for a way to continue to educate students about farming.
"I'm just really, really proud of the youth leaders, and really excited about what they've accomplished this summer, and looking forward to what's ahead next year," said Project GROWS Executive Director Annie Sachs.