Sports
Lamar Jackson out for Sunday: How much does his contract status play into decision?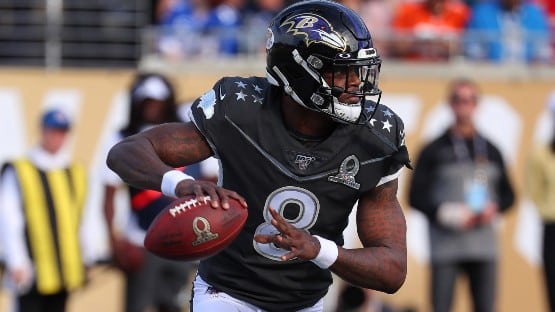 Baltimore quarterback Lamar Jackson, still hampered by a knee injury, is not expected to return for Sunday's AFC wild-card game against the Cincinnati Bengals.
Jackson has missed both Raven practices this week and hasn't practiced since leaving the Ravens' Dec. 4th win over the Denver Broncos.
Jackson, who is in the final year of his rookie contract, said his knee is still inflamed and "remains unstable."
"I want to give you all an update as I am in the recovery process," Jackson said in a tweet. "I've suffered a PCL grade 2 sprain on the borderline of a strain 3. There is still inflammation surrounding my knee and my knee remains unstable."
When Jackson was sacked by Denver linebacker Jonathon Cooper on the final play of the first quarter in the Dec. 4th game, the initial prognosis was week-to-week. That was five weeks ago, and Baltimore has gone 2-3, losing the final two regular-season games.
Late Thursday, on the WBAL's "Ravens Talk," it was reported that Jackson had not been officially ruled out, but Jackson had ruled himself out with his Thursday tweet.
With Jackson sidelined and backup Tyler Huntley dealing with tendinitis in his throwing shoulder, the Ravens' quarterback situation is fluid, and it won't change right up until game time. If Huntley can't go, Baltimore will have to go with undrafted rookie Anthony Brown, who started Sunday's loss to the Bengals.
If it's Brown, this game is as good as a bye for Cincinnati.
Brown went 19-for-44 for 286 yards against the Bengals, but had three turnovers (two picks and a fumble), all leading to Cincinnati touchdowns.
Baltimore averaged 25 points in games in which Jackson was behind center. The offense has been almost nonexistent in his absence, averaging only about 12 points per game over the final six weeks of the regular season.
The Ravens' defense is solid, but not solid enough to carry the weight of such an anemic offense.
The question that I asked "Ravens Talk" host Ron Johnson was this: what role does that fact that Jackson does not have a long-term deal in place have on Jackson not playing?
Johnson answered by saying, "Well, if you think it has none, we would be kidding ourselves, right?"
I think it does.
Even with Jackson playing at less than 100 percent, beating the red-hot Bengals in Paycor Stadium would be unlikely. Jackson knows that. He also understands that further injuring his knee significantly reduces his negotiating from a position of strength with Baltimore is gone.
Ravens' fans might think that Jackson playing at half of his effectiveness is better than the alternatives.
Jackson would disagree.