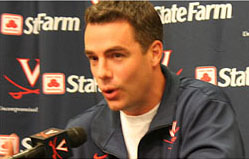 Coach K, Mike Krzyzewski, seemed to have the upper hand. His star one-and-done forward, Jabari Parker, was eating UVa.'s lunch and making a run at dinner.
After a 2-for-10 first half, Parker was playing like the #1 pick in this June's NBA Draft, which he will be, in the second half, willing Duke back into the game with a 7-for-10 from the field stretch that had the Blue Devils on the verge of another ACC Tournament championship.
Tony Bennett had a counter in mind.
After a Joe Harris dish found Malcolm Brogdon open after a backdoor cut for a bucket that gave Virginia a 55-53 lead with 5:50 to go, UVa. coach Tony Bennett called a 30-second timeout, and he had something up his sleeve.
During the 30, Bennett told his players that they would double Parker if he got the ball in the post, a strategy that UVa. had used on several opponents in different situations all season long, but had not yet done against the Blue Devils on Sunday.
Coach K used his time in the timeout to set up a play designed to – you guessed it – get the ball to Parker in the post. He was immediately doubled, passed the ball back out to the perimeter, and Tyler Thornton, trying to reverse the ball crosscourt, threw the ball over the Duke bench for a turnover.
Akil Mitchell tipped in Harris miss on Virginia's next possession, pushing the lead to four at 57-53, and Coach K called a timeout, essentially saying to Bennett, OK, young buck, you've shown your hand with the double-team, so now I counter your counter.
After the timeout, Duke got the ball to Parker on the perimeter, where he should have an obvious advantage over Mitchell, primarily a post defender. Parker tried to take Mitchell to the rim off the dribble, but Mitchell, considered by some who watch UVa. on a regular basis to be the best defender, post or perimeter, in the ACC, held his ground and forced a Parker miss.
Thornton got the offensive rebound and got the ball back to Parker, but he missed again, and then missed a third time after getting his own rebound.
Then came the wild card. On Virginia's next possession, Anthony Gill rebounded a Brogdon miss, and was fouled by Parker on an attempted putback. The foul was the fourth on Parker, putting a new wrinkle into Duke's plans.
Putting Parker on the perimeter on offense could run the risk of exposing him to an offensive foul call on a drive into the lane.
Bennett no doubt was going to double Parker in the post, and now he had to lay off being as aggressive driving the lane as he preferred to be.
Tony Bennett had now made Jabari Parker into just another Duke jump-shooter.
You can fast-forward to the ending from here to Virginia win, but for this one freeze-frame. After another Mitchell tip-in with 2:24 to go made it 61-57 UVa., Parker again found himself one-on-one with Mitchell on the perimeter. A noticeably less aggressive Parker backed into the lane and was stripped by Mitchell, whose defensive play of the game ignited a fast break that led to a wide-open Harris three that pushed the lead to seven with two minutes to go.
Ballgame.
Parker's stat line in the final 5:50: zero points, 0-for-4 from the field, one turnover. Virginia outscored Duke 19-10 to close out its first ACC Tournament championship in 38 years. And a coach that Virginia fans have known for a while should be considered among the nation's best was able to call out his first checkmate to a guy with four national titles and two Olympic gold medals to his credit.