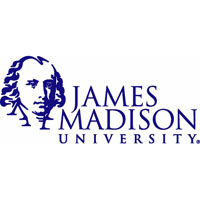 She is more than 700 miles from where she was born, raised and spent her entire professional career, but Dr. Yvonne Harris says she feels right at home in her new job at James Madison University in Harrisonburg, Va.
The Chicago native began her duties as the university's first vice provost for research and scholarship on July 15. Among her responsibilities will be working closely with the faculty research council, academic deans and the Office of Sponsored Programs to enhance the climate for and visibility of research and creative activity at JMU.
"I just jumped up and down when the job offer was made," said the multifaceted Harris. "This is such a student-driven institution that is all about undergraduate research, that is all about getting students to think, that is all about getting students to be stewards of the world around them. All I've done for 22 years is promote this kind of thinking."
A cell and molecular biologist who also is an accomplished artist, plant aficionado, avid reader, philosopher and movie buff, Harris comes to JMU from Chicago State University, where she was the associate vice president for sponsored programs. Before that, she was dean of math and science at Harper College in Chicago and before that she became a tenured professor and chair of the biology and biotechnology department at Truman College, one of seven community colleges in the City Colleges of Chicago system. She began her teaching career at Harold Washington College, also in the CCC system.
Harris' route to higher education was anything but predictable. Although a recruiter from the Art Institute of Chicago recommended Harris apply for an art scholarship out of high school, she took a job instead. She also married and had two children. She decided to go back to school after becoming a single parent.
She enrolled at the University of Illinois at Chicago as an art major "because basically that's all I knew." But she also had to take biology and fell in love with it. "Looking through a microscope at these different cell structures really did it for me," she said. "I really started getting involved with cells and cell structure and then I saw live cells and they're marvelous, they're the most beautiful things you've ever seen. They're like little crystal worlds. And then I wanted to know more about biology."
She also realized art was an escape for her and not something she wanted to do as a job.
Unconvinced she could succeed in biology, Harris picked up philosophy as a second major when she transferred to Northern Illinois University in DeKalb. "To offset my anxiety in going to the sciences, I took a philosophy class and I found a niche in philosophy. I love philosophy," she said.
When she started graduate work at NIU, faculty urged her to drop philosophy. Harris declined. "When you do research, you don't always think about your data and what it means in the context of a bigger picture. Philosophy brought that to me," she said, adding that the combination of biology and philosophy "is the best combination ever."
Harris worked as a researcher after earning her doctorate and also took an adjunct teaching position at Harold Washington College to make ends meet. She fell in love with teaching, especially helping students who doubted their abilities. "I would tell them, 'When you were 2 years old, you were brilliant. As a human being you are programmed to be a scientist and a mathematician. You're curious about the world around you. I want you to be 2 years old again and I want you to ask the 'why' question.' When you open it up like that to students, when they see that you want them to learn this at their pace in their way, you see some magic happen."
Harris has championed research experiences for undergraduates since she started teaching. Even students who decide they don't want to do research for a career benefit from the skills they learn. "I left research and came to teaching because I realized that I could take what I learned as a researcher and as a philosopher and put it into a learning format and get students to think," she said. "That's the whole goal, to get them to think."
Harris said she will not be teaching right away at JMU. One of her main goals is to increase awareness of the university's strengths beyond Virginia and the mid-Atlantic region. "This is a position where I can go different places, build collaborations, reach down into places that may not have been reached before and sort of elevate and expose JMU as the kind of institution that creates thinkers," she said.
Harris' track record made her a good fit for the new position, said Provost Jerry Benson. "We were looking for someone who represents our culture—faculty pursuing their research, scholarship and creative accomplishments but engaging students in that process, using it as a high-impact learning opportunity."
Added Bob Kolvoord, dean of the College of Integrated Science and Engineering, "Dr. Harris couples extensive background in supporting faculty scholarship with an infectious energy and enthusiasm for faculty and student research and creative activity. She has led by example in her previous positions and we're very excited about the possibilities she brings to JMU."