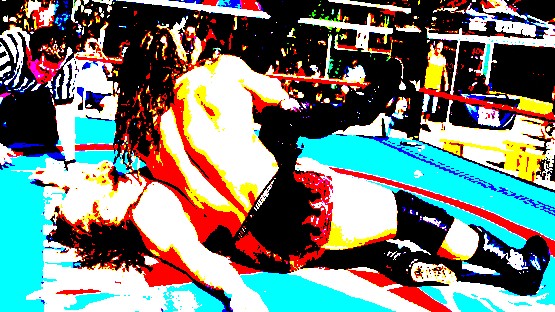 JMU fans are upset at me for the use of the term "jabronis" to describe the JMU Football program.
I used the term, which is familiar to me from the pro wrestling business, which I worked in off and on for several years, in what seems sometimes like a different lifetime, in a column castigating UVA Football fans for their general lack of interest in their program.
UVA Football fans really are the worst. We couldn't even fill the stadium up in 2019 for a game with Virginia Tech in which the winner would guarantee an Orange Bowl berth.
So, "jabronis."
I used the word to try to rile up the UVA fans reading, and from the Google Analytics, a fair number clicked on.
As did a few JMU fans, which is kinda redundant to have to say, "a few JMU fans."
There aren't many JMU fans out there.
Most people have better things to do; for example, watching paint dry.
I digress.
Left unsaid: JMU is favored by six points, and I'm calling JMU a bunch of "jabronis."
What would that make the UVA Football program, if they're six-point 'dogs to a bunch of "jabronis"?
I think most of y'all reading, even some of the JMU fans trying to keep up, know the answer.
"Jabroni," in the wrestling business, is a stylized word for "jobber," which in wrestling is the guy (or gal) sent out by the promoter to lose to a better wrestler.
A related term here would be "enhancement talent."
Wrestlers talk about "putting a guy over," which means that, in defeat, the job of the jobber isn't just to lose, but to make the better wrestler look good in the process.
The big promotions, WWE and AEW being the Big 2 in the States, don't use jobbers all that often anymore, but back in the day, the jobbers got as much TV time, albeit in the background, as the stars.
There was "Iron" Mike Sharpe in WWF, for example, George South in Mid-Atlantic, who was a guy that Ric Flair, the multi-time world champ, wanted for TV job matches, because South was that good.
Flair had another memorable job TV match with a guy named Mike Jackson, who was billed as the "Alabama junior heavyweight champion."
Wrestling, back in the day, needed these guys, who were often just as good in terms of being workers as the guys they were putting over, but for a variety of reasons weren't given a push themselves.
Not everybody on the card can be in the main event, basically.
Which gets us back to JMU, and "jabronis."
It's just reality: JMU Football, mired in the Sun Belt Conference, will never be more than an enhancement talent for the big boys in college football.
To emphasize an earlier point here: neither will UVA Football, for different reasons.
UVA Football is in a conference, the ACC, that does regularly send teams to the College Football Playoff, but UVA will never be one of those programs, because the admissions folks will never allow a coach to enroll 50 guys (the number, give or take, that you need to fill out your two-deep) to be able to compete with the real big boys, the Clemsons, the Florida States, the good SEC schools.
JMU's issue is that it's in the Sun Belt, which is a really good non-Power 5 (soon to be Power 4) conference, but that isn't going to get you very far.
Even when the playoff expands next year to 12 teams, JMU, like everybody else outside the Power 4, is competing for one, at best two, spots.
Doing some quick math here, 68 Power 4 schools will fill 10 or probably 11 of those 12 spots; the 65 outside of the Power 4 are gunning for one or maybe two.
Those aren't good odds – just a smidge better than the odds that George South had of beating Ric Flair on the SuperStation in 1986.
JMU may very well go out and beat UVA's brains in on Saturday.
Doesn't make JMU Football any less a bunch of "jabronis."
Promoters back in the '80s didn't often book one jabroni against another on big shows, but when they needed somebody to go out and jerk the curtain on a local house show, two jobbers could do the trick.
The UVA-JMU game, on Week 2, in early September, kicks off at noon.
It's two jobbers, on a local house show, jerking the curtain.